By now you've seen pictures and heard stories from this year's FriarFest. I have a condensed version of what happened of my day with Nicole (freelunch), Amanda (mandalay), and Kish (kish mabuti).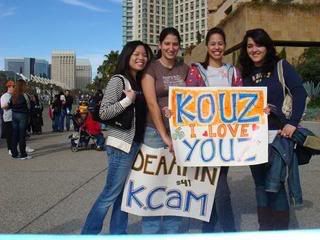 Since my partner in crime, Stephanie (Stephy08) and my fellow member of the 18yods, Shayna (padresgirlforlife44) couldn't go to FriarFest, I went with my favorite college girls. As we waited for the gates to open we came up with some great ideas that we'll reveal later on. I'll just say that its going to be similar to the Phillie's "Chase's Chicks," but ours is going to be better. ;)
The gates finally opened and we headed to the garage sale to look for some stuff while we wasted some time before the Heath Bell autograph session. I did not find the Jusin Hampson jersey I wanted but I settled with his locker nameplate as well as Justin Germano's locker nameplate & BP hat (no i'm not wearing that hat. that's gross).
We headed to section 113 to sit and wait for Heath. Nicole went to third base to meet up w/ Jonny Dub and Jbox. Amanda, Kish, and I later got our turn. One of my dreams came true during FriarFest. I finally got a picture taken with Jonny Dub. It was great. Haha.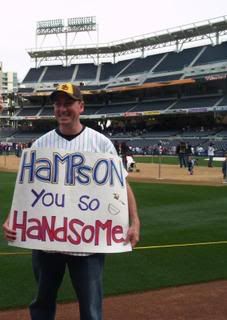 Fast forward to Heath Bell. Heath really liked Nicole's GLB shirt and even said that he wanted one! Nicole & Amanda talked to Heath about cookies and plans to annoy him more this coming season.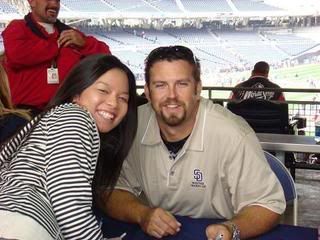 After Heath's autograph session we headed to get vouchers for the Justin Hampson autograph session. But there were none left! We all got bummed out, but I told them that last year Stephanie and I asked Justin both days if we could wait till he was done with his autographs to take pictures and talk with him, and he said yes.
Since the autograph session started at 1:30pm,we had some time to kill. We were heading to the outfield to take some pictures, when we bumped into Jonny Dub and Jbox. While we were talking most of you by now know that we were all over the TVs at Petco Park.
After our couple minutes of fame we continued went and had our photo shoot as well as leave some messages on the outfield wall.
Finally we headed to the section where Justin was going to be and we decided to wait right in front of the crowd of people waiting for Justin and K-Cam. We wanted to be the first ones they would see. ;)
A couple minutes later Justin and Kevin started walking towards the wrong section then had to turn and walk towards us. We started walking towards them so I could ask Justin if we could wait till he was done w/ his autographs to take pictures w/ him because they ran our of vouchers. He said that they probably threw away the vouchers. Since Scott Hairton's & Jerry Coleman's autograph session was still on and Justin and Kevin were just standing there, we just had them autograph the posters and take pictures w/ us before they went up to their autograph sessions.
Kish showed them her awesome posters which I know they love. Who doesn't love Kish's artistic and creative posters? We made each of them hold their own posters so they could take a picture w/ Kish. I have to say that was the funniest moment. After that I went over to Justin to talk w/ him and ask him if he could autograph his locker nameplate.
He noticed that Stephanie was missing and I told him that she was sick. After some more laughs and getting my locker nameplate autograph with a special message (he wrote: Laura, Looking forward to seeing you all summer.) I reminded Justin on how last year at FriarFest I promised him a poster if he made the year, and I told him that this year I would upgrade him to a t-shirt. He liked that and even asked if we could have rhinestones on the t-shirt. Who knew that Justin liked sparkly stuff?
The guys said bye and headed to their autograph session. I also learned something new about Justin. I learned that he's married. Haha. I didn't notice his wedding band, Nicole, Amanda, and Kish told me that they saw it and then I saw it on my camera. We took the clubhouse tour. One of the things I noticed were all of Josh Bard's pictures of his family and baby. I also noticed pictures of little kids on Cla's locker. I don't know if those are his nephews but there were a lot of pictures of kids.
Overall I had a great day. We had a lot of fun. We took a lot of pictures, made plans for this coming season, and got our mission to take a picture of Justin and his poster accomplished.
The End.