Yesterday I returned home from my second spring training trip and I figured I would share the experience and some of the nuggets. I went with my buddy Mike, who is also on GLB (I forget his username). We made the trek out Thursday morning and left Sunday morning. All in all we saw four games, and a lot of practice.
I was most nervous about the hotel situation as my prior trip included a crap hole on Bell Rd. I believe it was the Red Roof in. I even asked my fellow GLBers of any hotel recommendations. I ended up getting something on 53rd Ave which was good and bad. The good was that it was super cheap and the actual hotel room was decent, and the bad was that it wasn't in the most desirable part of town. The one thing I was happy about was that there were a ton of hotels in walking distance and I'm sure they were all more expensive. I would have been bummed to pay more and end up in the same area. Lesson one for next time is that all the parks are pretty close (went to three different ones this trip) so next time I might stay in Scottsdale, or somewhere with something to do in walking distance. I don't need to get a hotel that is close to Peoria.

On to the baseball, the first game we saw was on Thursday which pinned the Padres against the woeful Brew Crew in Peoria. Josh Johnson pitched and I was impressed. Not going to lie, I was a little out of it from waking up early and driving, getting pounded by the sun, and having some beers. That's part of what spring training baseball is all about. If I remember correctly, Alonso had a good game and Hedges (one of the guys I was keeping an eye on) had a bloop single that actually should have been caught.
Friday was double baseball day. First the Padres took on the Angels at Peoria. The Angels had their C team with no Trout, Pujols, or Hamilton. We had pretty good seats for this game and Skaggs has a nasty curveball. He was pitching pretty effectively then unraveled later in the game. Hundley and Gyorko both hit bombs and we won. Again, hotter than hell in Peoria. For Friday night, I had gotten tickets to the Rangers-Reds game at the Reds stadium. When we got there we were pleasantly surprised that they were putting on happy hour which included $1 16oz PBR and Old Style until the game started. I helped myself to two Old Style. As for the game, the Reds presented Choo with their MVP from last year. As for the game, Billy Hamilton stood out. In the first he walked and ended up on third after a stolen base and a bobble by the catcher. He had a solid hit later in the game too, that guy is fast.
Saturday was the last day of baseball and included a game behind enemy lines at the Dodgers facility. Lesson number two, leave super early for Dodger games due to traffic. We left an hour and a half early and just made it by first pitch after getting a dog and a beer and walking through their lush facility with a little river. The Dodgers facility is ten times more crowded than the Padres, as expected. The game itself on Saturday was uneventful until late when we mounted a comeback. Castellanos had a jack and Hedges had a hit, we scored four but still fell short. The thing I was most bummed about was that I didn't realize that Urias (the Dodgers 16 year old phenom) was pitching. When I checked At Bat app in the morning it said some no-name was pitching and since we got to our seats after the starting lineup, I never realized he was pitching. Our hitters didn't do much against him. We didn't realize there was a night game on Saturday (Dodgers vs White Sox) and we scrambled to try and find tickets but the game was sold out and we couldn't find anywhere to print stubhub tickets. Oh well, another lesson learned. Always try and plan for all games and get tickets beforehand.
For me, the games are secondary to the backfields. I get to see the big league squad at Petco many times throughout the year and catch most of the other games on television so seeing Hundley hit isn't too noteworthy. However, having the entire Padres organization at your fingertips is.
Mike and I were looking forward to seeing Franchy Cordero after reading BP's write up of him which started with "Wow talent." Franchy didn't disappoint, he hit a monster shot of the light tower during one of his batting practice sessions. I guess he truly does have "light tower power." Speaking of power, we also got to catch Renfroe take batting practice and launch shot after shot out of the practice field. I overheard him talking to a fellow player about how the ball was flying that day and that they must have hit thirty homers out which was good for the kids shagging the homers. Renfroe wasn't fully participating though, I asked him what was hurting him and he said his hammy. We also saw Fried however he was standing on the side lines while the rest of the lower level pitchers played catch. Lastly on the backfields, we had missed Dustin Peterson's batting practice session on Friday and only caught one pitch on Saturday, but it was a good one that he hit out of the park to left field.

As for the big league part of the camp, I have some interesting notes to share. The first was that I was making small talk with Cashner while he was signing an autograph for me and asked for recommendations of where to live in San Diego as we was looking for a place. I recommended Point Loma as I was born and raised there and think it's the nicest area of the city. Maybe I'm reading too far into this but maybe he's going to sign a long term contract and wants to make a home here? Who knows? The other note was watching the catchers practice on one of the smaller backfields. They were trying to hit a bucket off a stool on second base. It took Hedges a few times then he hit it, swoon. I believe Decker was the next guy up and he wasn't even close. AJ Hinch was leading the instruction and it was definitely noted to keep the ball down as we don't have the tallest middle infielders in Cabrera, Gyorko, and Amarista. He also explained that the throw to third is all in the legs. After the practice Hinch walked back to the facility with Hedges, hopefully giving him even more pointers.
Mike and I also came back with a few autographs. We each wanted Cashner and Hedges on baseballs, which we got. I was able to land a Renfroe, Headley, Alonso, and Street on cards and Mike was able to get Randy Jones, Renfroe, Joe Ross, Franchy Cordero, and Rymer Liriano on a ST jersey from the garage sale. All in all, it was great for autographs; everyone on the Padres is easy and welcoming to the fans. The only "player" that evaded us was Trevor Hoffman. He kept saying that he would sign later and we never caught him. We tried to balance watching the practices and getting autographs and I think we did a great job.
Hopefully you all enjoyed the write up and it wasn't too long. I leave you all with a few pictures.
Hedges doing catching drills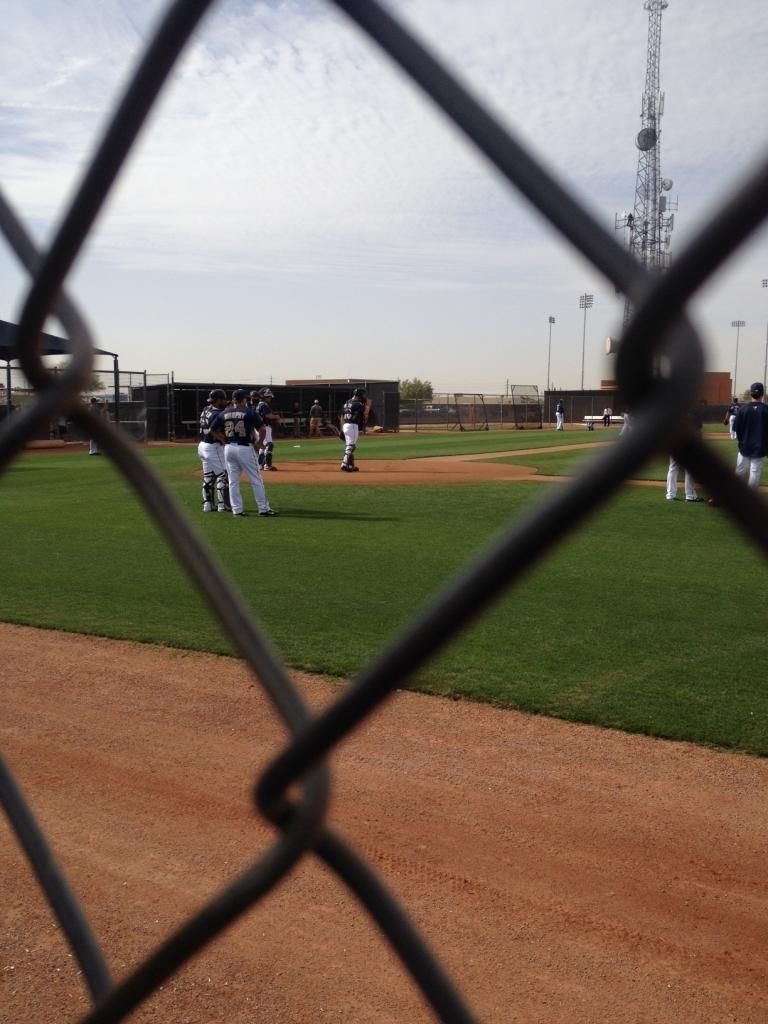 Low level pitchers warming up
View from Thursday, JJ on the mound.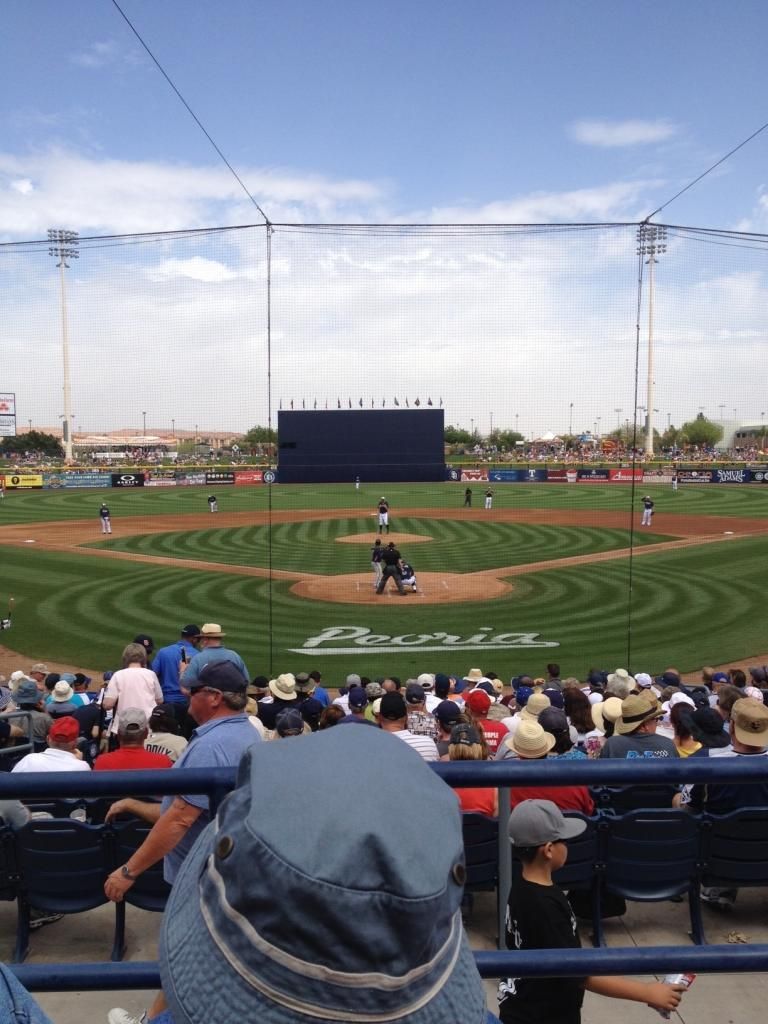 Carlos Belen in a minor league game
Pitchers throwing a session. Erlin near side, Sampson far side. Forget who was in the middle.
Franchy Cordero