Hey everyone! With Spring Training winding down into the much anticipated Opening Day of the season, it's time for another episode of the Friar's Hat Stash! The Friar's Hat Stash is an in-depth look at everyone's favorite piece of baseball related wardrobe: the baseball cap.
This Spring Training has provided many great question marks and hopes going into the season. Will we see Tommy Medica continue his dominance with our Padres? How good has Joaquin Benoit looked? Are you ready for this season?
*go ahead and write your answers down on the paper provided*
Anyway...this issue will take a look at camouflage variants of our beloved Padres caps. Being the Padres, we're no strangers to camouflage in our uniforms. The Padres are known for starting the tradition of honoring our men and women in the Armed Forces by wearing camouflage jerseys. San Diego is a large military town, with several Marine Corps bases and Naval installations taking residence in America's Finest City.
I like to think this is the issue Andrew Cashner would take a look at, nod, and say something like..."nice."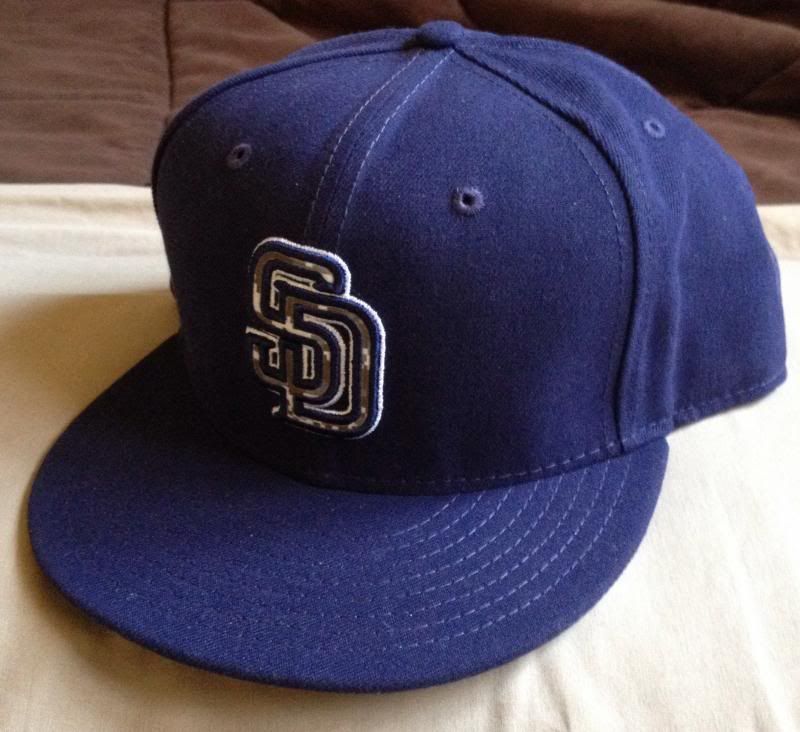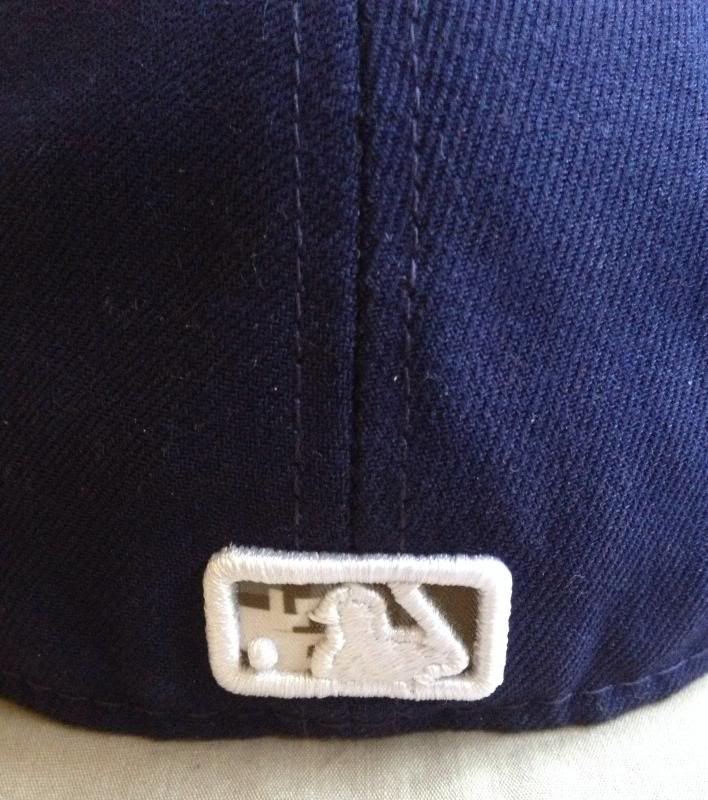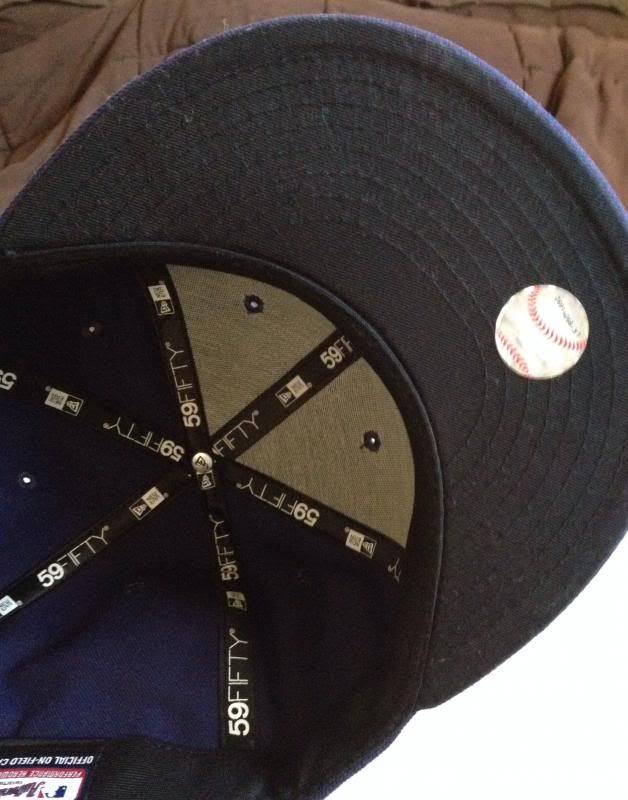 Here's a navy 100% polyester Padres cap with a digital camo motif that takes up the interlocking SD. Where have we seen this design before...?
There it is! This cap is a take on the 2012 Stars and Stripes cap if the Padres used their navy color in lieu of the awesome alternate olive here. While it was marketed and sold as an official on-the-field cap, I don't think the Padres actually used this colorway that season. The interlocking SD is done in the UCP (Universal Camouflage Pattern) of the Army, with a navy and white border. UCP also takes up the MLB logo, and the underbrim and sweatband are all black.
This cap is interesting in the fact that it sort of exists as a "What If" cap. The Padres could have very well went with their navy colorway in the 2012 Stars and Stripes, but made the right call by matching their awesome alternates to the Stars and Stripes caps, making for a very unique look in comparison to the rest of the league that year.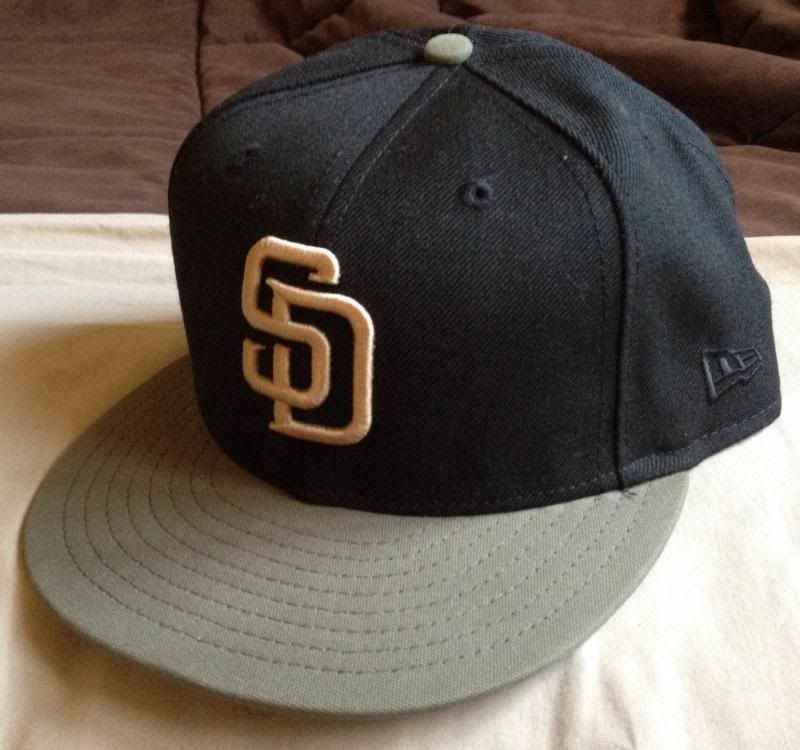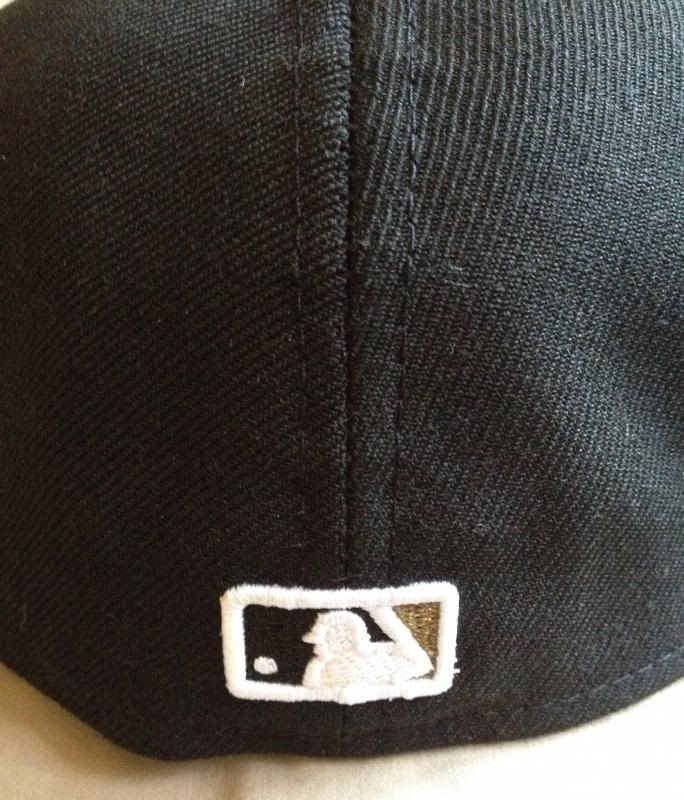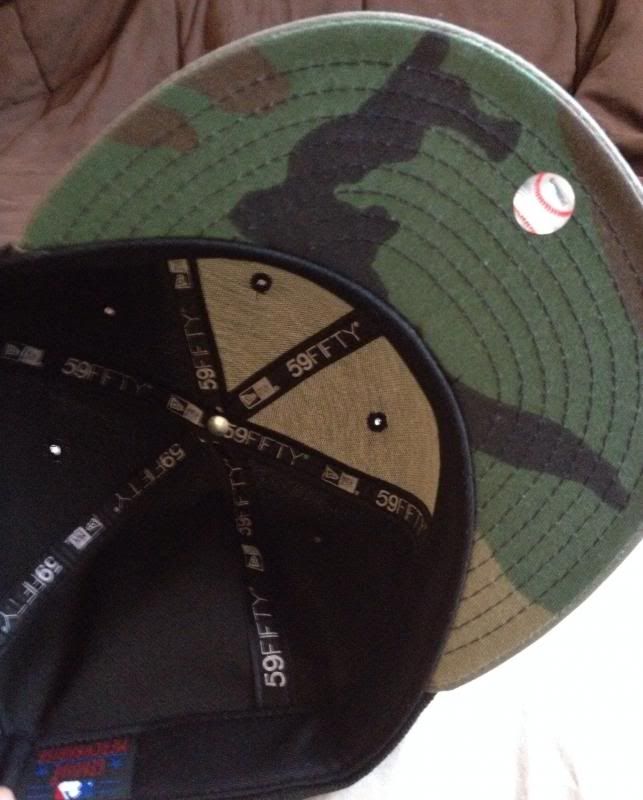 This next cap is a favorite of mine just because of how seamless the camouflage looks as the underbrim. This 100% wool cap is black with rifle green as the brim and button color. The interlocking SD is khaki. Rifle green also appears inside the MLB logo. The forest camo underbill is paired with a black sweatband.
This cap is a personal favorite just because of how cool it looks. The underbill is subtle, but adds that edgy touch to make this cap stand out to observers. I like to pair this cap with a black shirt and my camouflage Nikes for a street savvy look.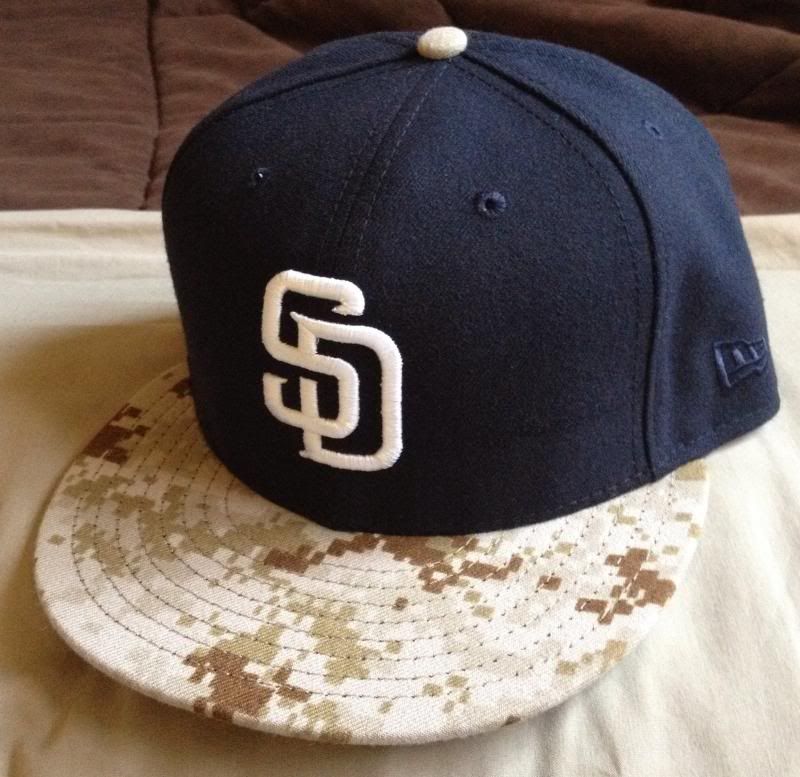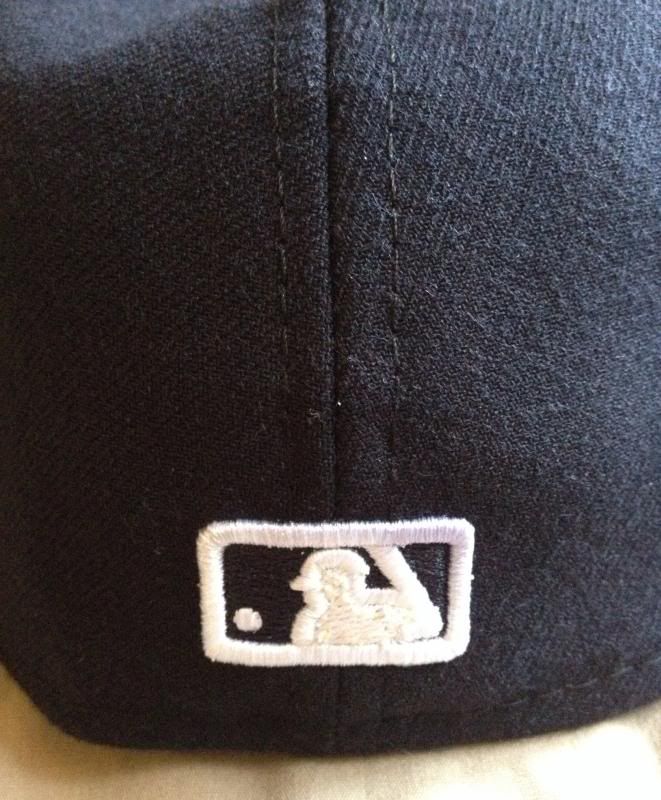 Here's a cap that flips the script from the previous cap and displays the camouflage on the brim! Digital desert camouflage provides the pop on this 100% polyester cap. The button shares the sand color of the brim while the crown is navy. A white SD and MLB logo provide contrast to the navy color of the crown and underbrim. A black sweatband round out this visually interesting cap.
This particular cap was part of the last batch I received recently, so it's only getting some wear time today. I'm a fan of the digital camo pattern, and it pairs quite well with a navy shirt and khaki pants.
Hey, turbopan! This was the hat!
---
And now for something completely different.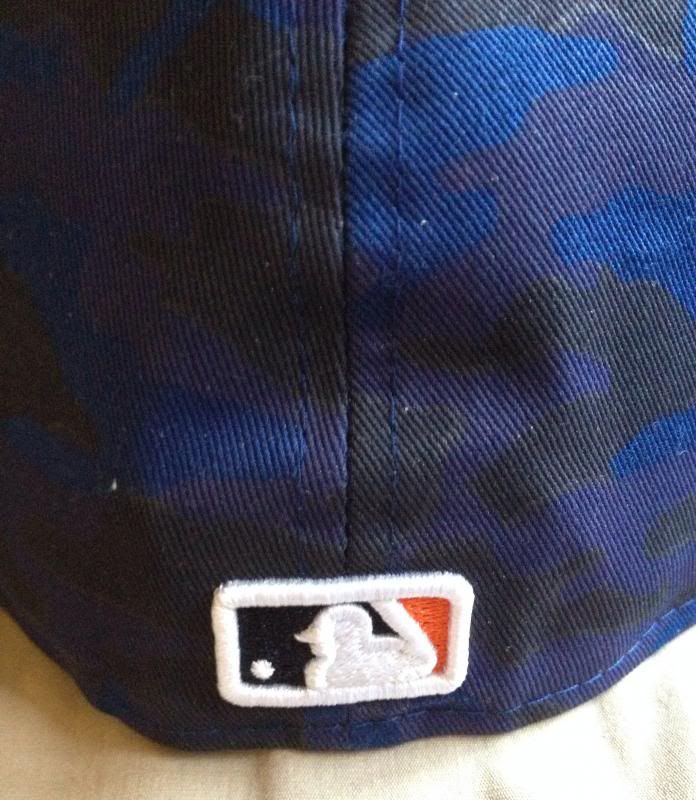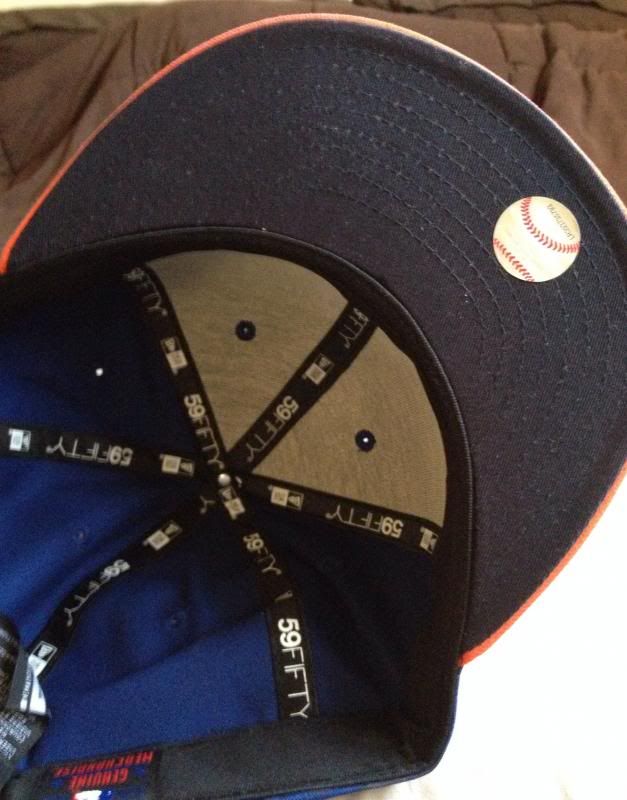 This vibrant cap defeats the purpose of camouflage, doesn't it? The crown of this cap is 100% polyester and is paired with a 100% cotton brim. Royal blue camouflage makes up the crown of this cap while orange makes up the brim, button and New Era flag. White makes its only appearance as the interlocking SD and in the MLB logo. A darker shade of navy makes up the underbrim color and the sweatband is the standard black color.
This cap is one of my more visually interesting caps because of its obvious colorway. The other cap in this particular series, however, is even LOUDER. Don't believe me? Read on...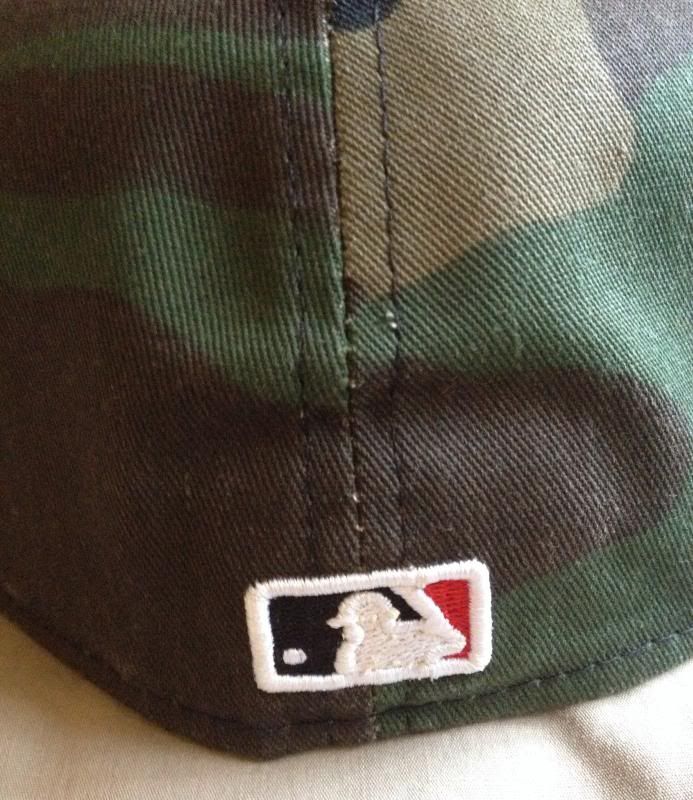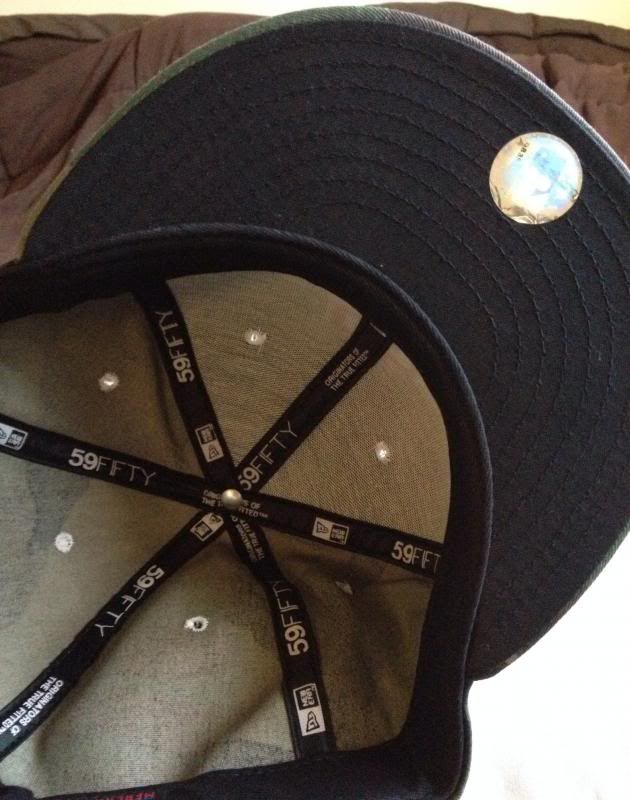 One of the older caps in my collection, this forest camouflage cap stands out with some colored details. Cotton makes up all of this cap, with white appearing in the eyelets, MLB logo, New Era flag and border of the red interlocking SD. Red also appears in the button, the New Era flag, and in the MLB logo itself. The underbrim and sweatband are matching black.
This cap and the following were bought together when I was first building my collection years ago. I particularly liked to pair this cap with a red and black band t-shirt for a rocker look. I don't get to wear this cap as much as my band t-shirt days waned, and I should really find an occasion to dust this cap off again.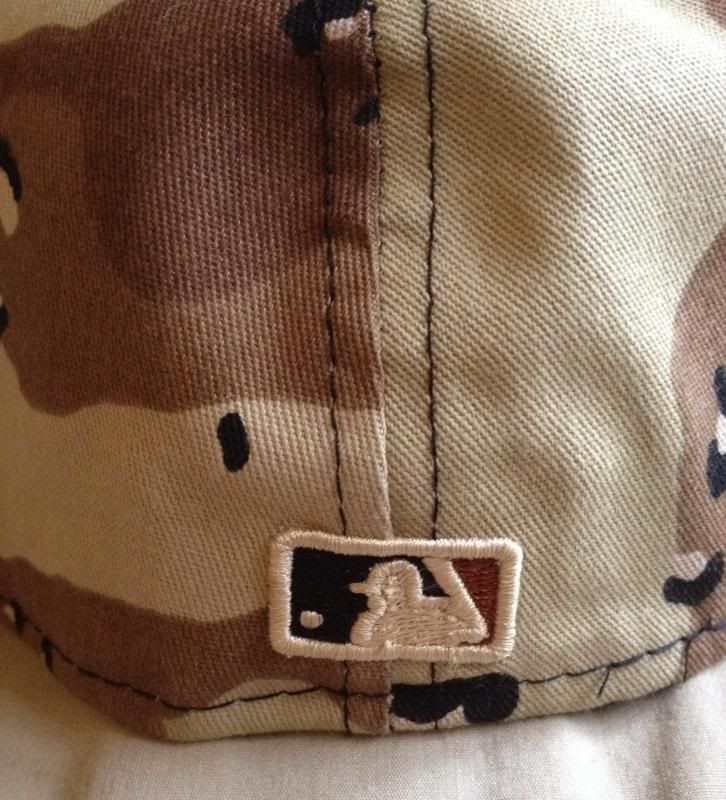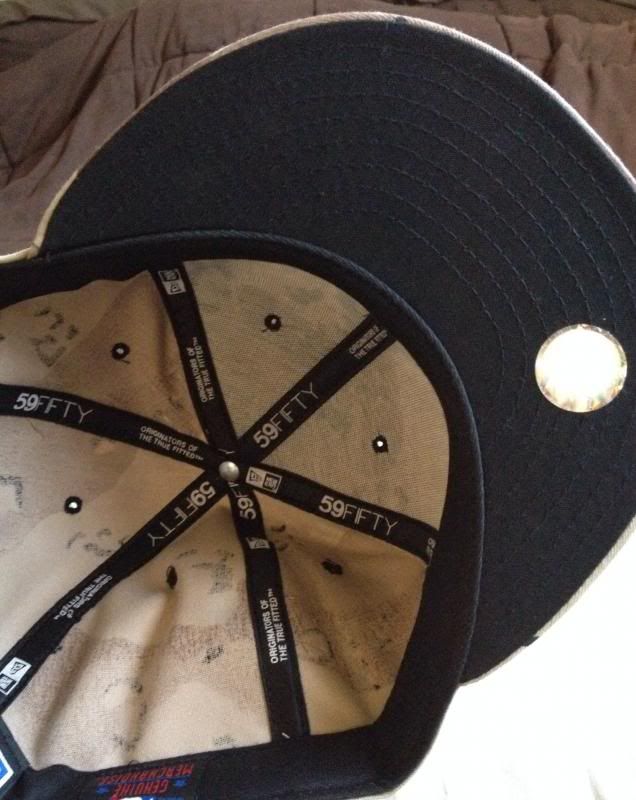 The converse of the forest camo cap, this 100% cotton cap features the Desert Storm (or chocolate chip) desert camouflage pattern. This cap is almost completely desert camouflage except for black, which colors the SD logo, button, New Era flag, MLB logo, underbrim, and sweatband. A sand colored border appears in the SD and MLB logos.
This hat is a bit more versatile than the forest camo cap mainly because it resides in one color palette, instead of two or three in the one previous. As with some New Era caps, there is some discrepancy in size with this particular cap, as it fits me just slightly looser than an average 7 5/8ths cap.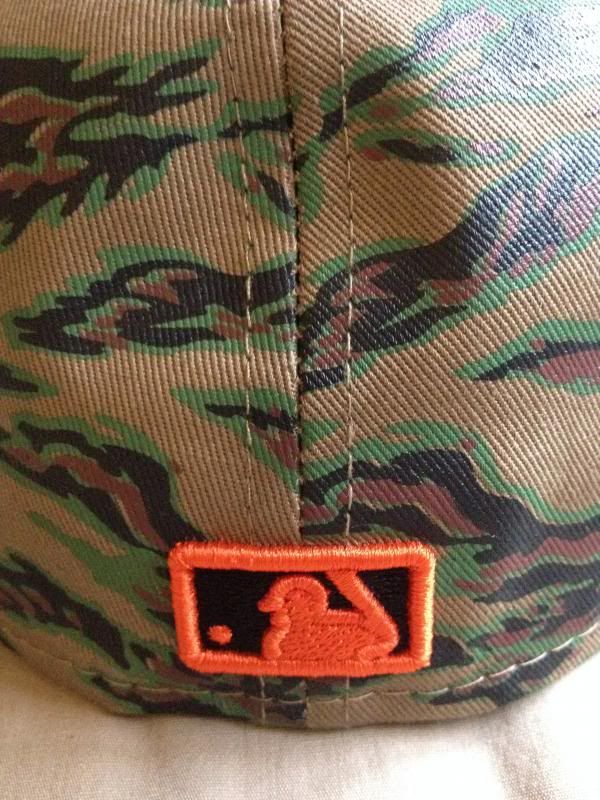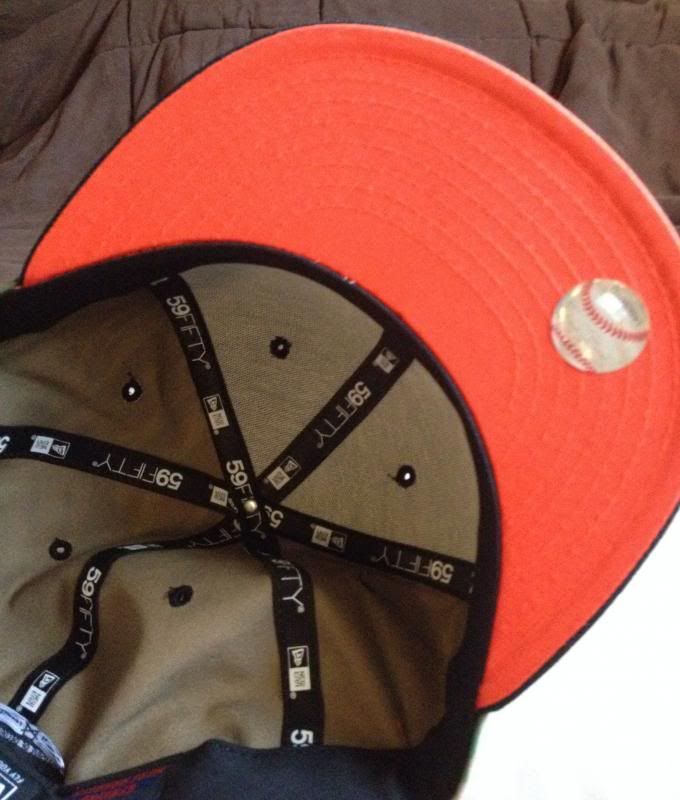 And now for two caps from the same series in different colorways! Both of these caps share a 100% wool crown and a 100% cotton brim. The first example shown here is a tiger stripe camouflage done in forest colors, with black and orange serving as the contrast colors. Black appears as the SD logo, brim, eyelets, button, MLB logo and sweatband. Orange pops in the SD logo border, New Era flag, MLB logo and a visually interesting underbrim color choice.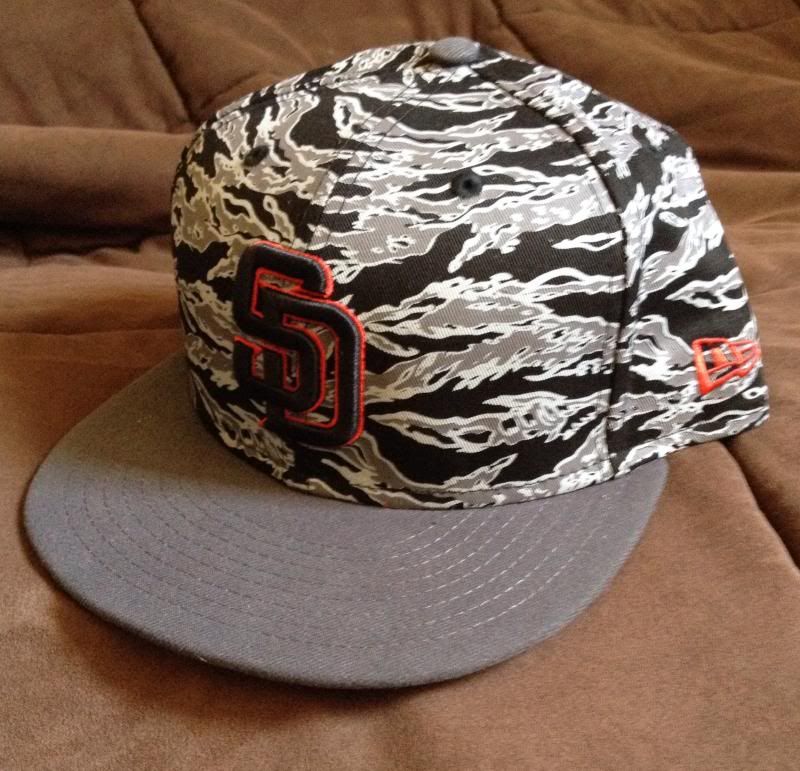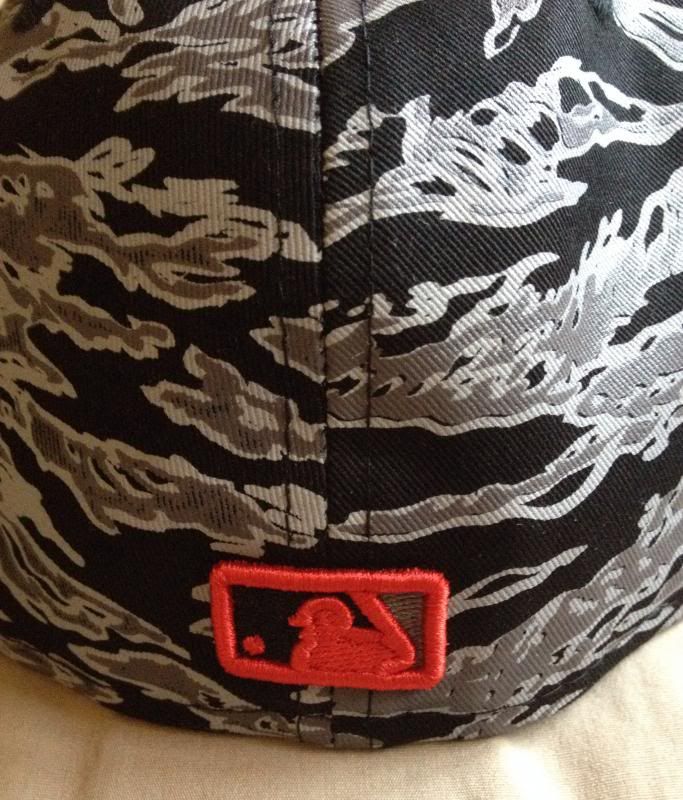 A contrasting black and gray tiger stripe camouflage pattern make this cap stand out even more than the one previous, completely eliminating the point of camouflage (except at night). Red provides the contrast in this version of the tiger stripe cap, making up the border of the SD logo, New Era flag, MLB logo, and as the pop color of the underbrim. A dark gray colors the brim and button, and black takes up the SD logo, eyelet color, and sweatband.
Both of these caps see regular wear in my rotation, although arguably the black and gray version is a bit easier to wear. I'm actually a fan of the tiger stripe camouflage pattern, mainly because it's such a striking pattern. Of course, camouflage has come back into contemporary style, so it isn't really much of a stretch to wear either cap with a basic color shirt.
---
This last cap is probably one of the most visually jarring and interesting caps I own. I do expect a fair amount of comments on this one, because it is just so...different.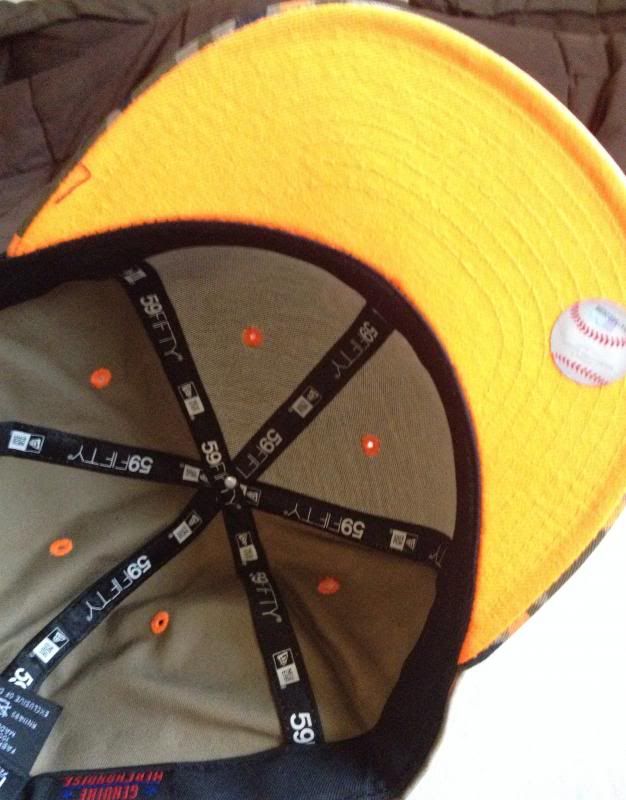 Our last cap in this episode is the partner of the royal blue/orange cap shown earlier, and is incredibly loud in comparison. What would normally look like a subdued camouflage cap is brightened up several levels by the inclusion of hunter orange in the camouflage design, making it fantastic when drawing a bow to take a 12 point buck at 200 yards but interesting when worn anywhere else. Hunter orange is the primary color in the interlocking SD, New Era flag, eyelets, and as a vibrant underbrim. White makes a very subtle appearance as the SD border and in typical use as the MLB logo.
If you're wondering, yes: I have worn this cap. With a plain white t-shirt. It's a loud cap by itself! A big part of collecting is finding those truly unique caps that not everyone would look for, and this cap does hold that peculiar distinction in my collection. It is as unique as it is loud.
Other caps that fit in this collection that we've seen before: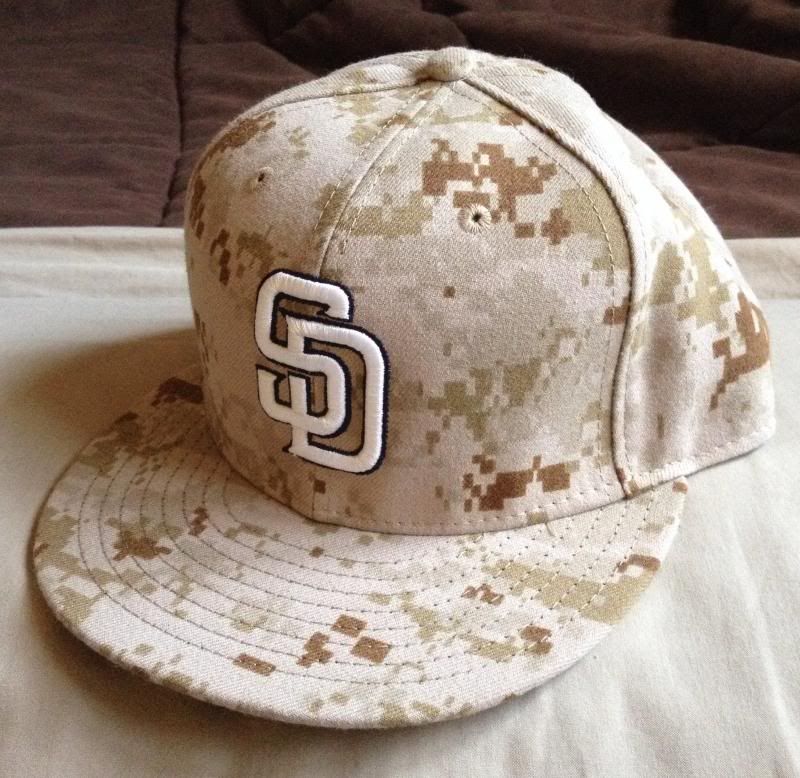 Read about me in THFS #2!
---
Speaking of my collection, I have just recently hit a milestone in my journey to collect Padres caps.
I've hit 100 caps!
When I first began collecting caps, I never thought I would have gotten this deep into collecting. Upon receiving a new shipment of caps, I paused to take another count and found I hit the century club. In retrospect, it's neat to hit a nice round number...but I feel like I'm definitely not done yet. Rest assured, there will be plenty of Friar's Hat Stashes to come!

My biggest thanks goes out to you guys, the readers! I began writing TFHS with a little hope that my fellow Padres fans would be interested in the many Padres caps out there. I've been more than surprised that so many of you enjoy reading about my collection, and for that I offer my humble thanks once again.
As always, feel free to comment and share your thoughts! I look forward to fielding your questions and having some banter about how loud that one hat is and why in all of Friardom I would own such a thing.
Here's what's on deck for next time!
- Staying classy is natural to San Diego. I'll show you how to keep it classy with some sharp Padres caps!
Thanks once again for reading! Until next time! Go Pads!
Cheers!
Tim (The SD Hat Guy)
In case you missed it: TFHS #7 - TFHS #6 - TFHS #5 - TFHS #4 - TFHS #3 - TFHS #2 - TFHS #1