Hey everyone! Welcome back to the Friar's Hat Stash! The Friar's Hat Stash is an in-depth look at everyone's favorite piece of baseball related wardrobe: the baseball cap.
If you remember our last issue, we were taking a look at (arguably) one of the best colorways our Padres had, and one in use during most of the 90s: the navy/white/orange colorway. Many of us fans can still recall fond memories of our Padres clad in the navy, white and orange. The best memories may culminate with the 1998 Padres squad that made a run to the World Series.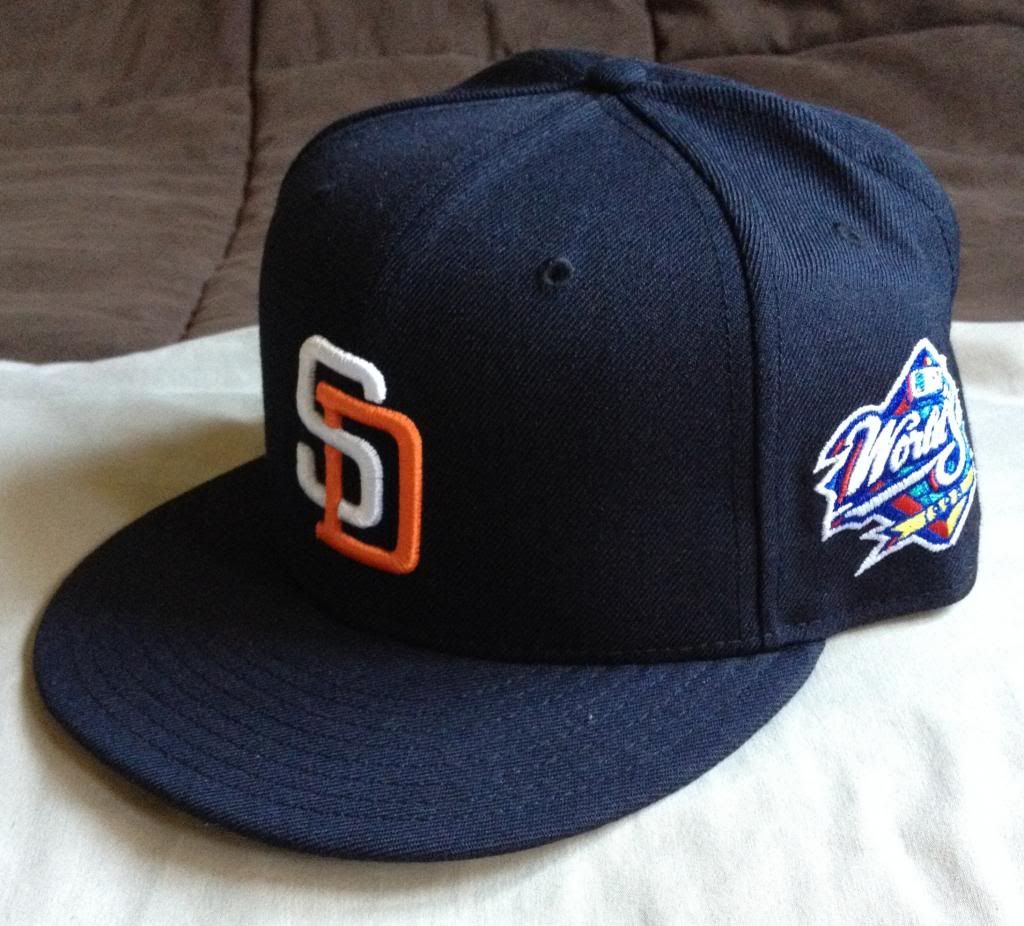 This is a replica of that particular cap from the '98 run. As you may fondly remember, this 100% wool cap is navy, with the interlocking SD in white and orange. In lieu of the New Era flag on the left side, the 1998 World Series patch is stitched in full color. The MLB logo is in the standard colors and has a hard to see navy border. A fashion gray underbill and black sweatband completes this cap.
I did make a mention of this cap in the last issue's comments section, and had to grab it for myself. This particular cap captures one memory in my mind: Gwynn sending one to the right porch in Game 1 of the series. I remember being parked in front of the TV and my dad cheering when Gwynn sent it flying. This cap helps commemorate better times in our franchise, with (hopefully) better times on the way.
I'm sure you're waiting to see some new variations, right? Here's the rest of my navy/white/orange collection:
Here's a 90's color cap with a different fabric makeup: 66% wool, 34% viscose (rayon). This particular mix of fabrics makes for a comfortable, fuzzy sweater look for this gray cap. The interlocking SD are proper white and orange, and the bill, New Era flag and button are navy. The MLB logo in the back is in the proper Padres colors with a raised white border. Fashion gray and a black sweatband are shown here, as well.
This is one of my favorite looking caps just because of its fuzzy feel. Because of its warm appearance, this particular cap also makes a great winter wardrobe choice and adds to a comfortable look.
This cap is an alternate take on the Padres road colors, with gray, navy and orange making an appearance. This 80% polyester, 20% wool cap is gray with a blue bill and button. The interlocking SD features navy taking place of white, and orange still occupying its place. The MLB logo is in standard colors with a white border. The gray underbill is paired with a black sweatband.
This is actually one of my favorite colored caps; favorite enough that it is actually a size too small. This particular cap is an example of a stretched cap, and a subject I'll touch on further down the page. Even with an aggressive stretching, this cap is still slightly too small on some days. Size difference notwithstanding, I enjoy wearing this cap from time to time, just because the colors work so well in conjunction with each other.
I'm sure everyone remembers the pinstripes! When in use, our Padres sure made the pinstripes a sharp look. This 86% cotton, 14% wool cap is white with blue pinstripes. The button and bill are navy, and the MLB logo is in standard colors with a white border. Gray makes its only appearance as the underbill color and black as the sweatband.
As much as I really like this cap's colorway, I'm scared to wear this cap on a regular basis. You guessed it: the white color scares me. As much as the cap being white does worry me, I should really make a more concerted effort to wear this cap more often (maybe at a game!).
This particular cap is a more recent foray into New Era's Diamond Era collection. This 100% polyester cap is gray with a navy bill, New Era flag and button. The interlocking SD logo is in its modern iteration* (read: serifs) and is completely white with an orange border. The MLB logo follows the same coloration as the previous caps, and the underbill and sweatband are also gray and black respectively.
So why is New Era pushing the Diamond Era collection, you may ask? Well, it may be considered the next step in baseball cap construction: polyester, while lacking the natural wicking agents of wool, is easier to imbue with new "technologies" such as water repellant and UV resistant properties. The construct of the cap, while different in appearance, does make it lighter than the average cap. Perhaps a lighter cap will make a player faster? I suppose that remains to be seen.
* I miss the old Padres lettering and alternating colors.
This next cap goes back to the primary navy color with an interesting take on the interlocking SD. Navy makes up most of this 80% wool, 20% polyester cap, and also pops as the stitching in the orange bill. Orange is also found in the New Era flag and serves as an offsetting border for the interlocking SD. White also finds itself as the second color in the offsetting border, and in the MLB logo in the back. The underbill matches the navy color of the cap with a black sweatband.
Of the many 90s colorway Padres caps I own, this particular one has the most visually interesting use of the interlocking SD logo. Although it is done in the 90s Padres colorway, it is somewhat difficult to pinpoint as a Padres cap (mainly the SD logo) in the wrong light. Still, this cap sees regular use in my rotation.
This cap, according to my brother, is in a "Space Jam" colorway. White makes up most of this 100% cotton cap. The bill is adorned with an interesting orange/blue gradient colorway with splotches of white and orange stitching. Navy makes up the primary portion of the SD logo, button, New Era flag, and underbill. The MLB logo remains the same as the previous caps, and the sweatband is also in the standard black.
While I do really like this cap, I've already had to clean it once due to it being white. I do have some unique challenges to keeping my caps clean, mainly because my head is more prone than most to hit things (I'm 6'7). Still, I am looking forward to an occasion where I can wear this cap.
The last two pieces of my 90s collection are my most visually interesting navy/white/orange caps.
Breaking away from all the previous caps, this cap does away with the interlocking SD as the primary logo and spells San Diego out across the front of the crown. The button also stands out in white along with the New Era flag. The interlocking SD isn't completely absent from this cap, as it is prominently displayed in the patch on the right side of the cap along with a motif of the San Diego skyline. Orange appears in the side patch and in the same-color-as-the-previous-caps MLB logo. The underbill is fashion gray, and the sweatband is black.
I really enjoy wearing this cap. The reason is obvious: it's really cool! The full stitched San Diego across the front really catches visual attention, and the patch on the side is a nice detail that really brings more attention to an already awesome looking cap.
The last cap in this issue is my most visually interesting 90s colorway cap that I own, even though it is primarily gray and orange. The reason? Check it out:
Yep, the Swinging Friar glows in the dark!
Gray makes up most of this 100% polyester cap. Orange is utilized as a pop of color in the Friar's garb, New Era flag, button, and eyelets. In lieu of the MLB logo, a Padres patch takes up the back of the cap, and is adorned in black, white and orange. This patch logo has been utilized in other Padres caps, and you'll see it again in a future episode. The underbill pops with orange, and black makes up the sweatband.
I've yet to wear this cap with the Friar fully aglow, as I'm waiting for a blacklight party to come around and make this cap the obvious choice. Even without the Friar glowing, this is still a visually interesting cap. The orange alone makes this cap stand out.
-
Sometimes, you may receive a cap in your size, or a size smaller that just doesn't fit correctly. What can you do? Here's a couple tips to get you started.
- The first and foremost tip is to know your size. If you're just purchasing your first cap and you're not sure what your size is, try a few on and find out which size works best for you. Of course, even two different caps of the same size can fit differently. What if you ordered the cap online? What if (like me) you just had to have the cap?
*These methods will work best if you're only stretching or shrinking one cap size. I wouldn't recommend purchasing a cap two sizes over or under sized.*
- There are several ways to stretch your cap out. You can use the Knee Method or the Heat Method. I've linked the videos within so you can take a look for yourself. Both methods do require patience and a bit of force which could permanently damage the cap, so do take care when using either method. Time and patience are your best friends when trying one of these techniques.
- My preferred method?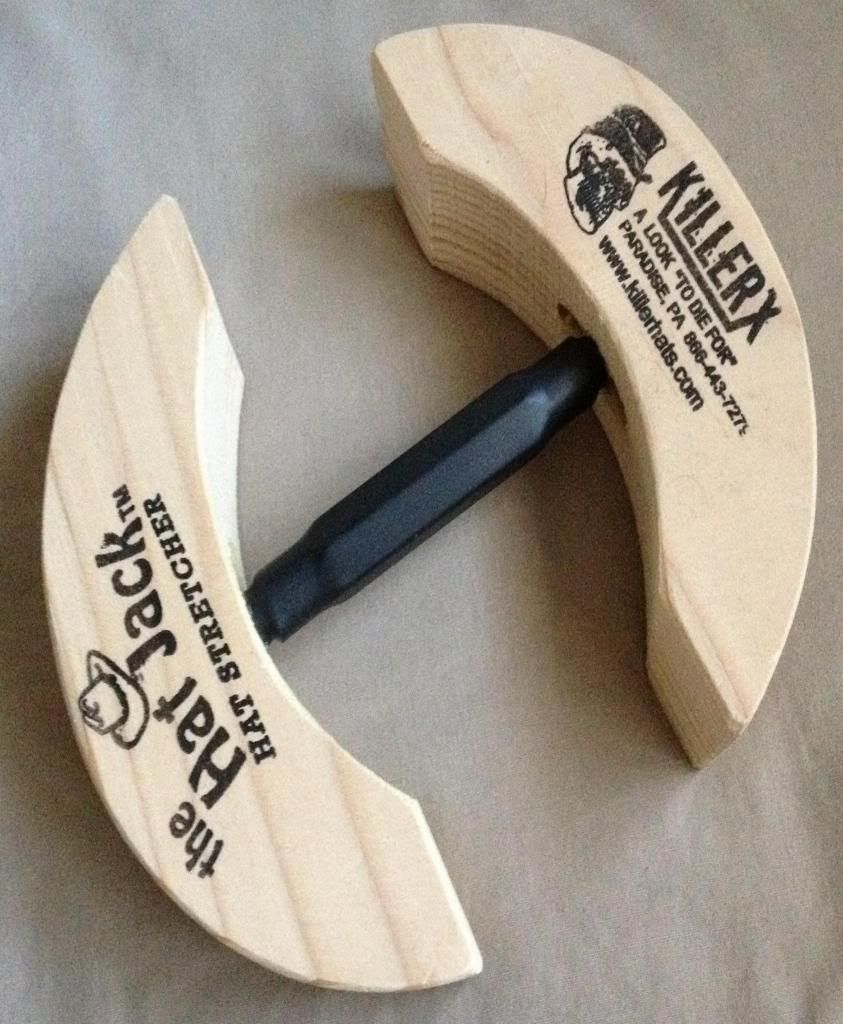 Pictured here is a Hat Jack, found with a quick Amazon search. This proprietary tool fits inside a cap and operates by turning the handle on the inside, stretching the two shaped pieces away from each other and stretching the cap out. I've used this tool to stretch one of the caps in this issue out to my size, and to adjust some well-loved caps back into shape. I own one of these just out of necessity of being a collector, and wouldn't necessarily recommend buying one unless you're against one of the techniques mentioned above. New Era also makes a hat shaper/stretcher that utilizes an inflating bladder, should you be so inclined.
- Shrinking can be done a few ways, depending on the cap's material.
> If the cap is primarily wool/cotton, you can try giving the cap a hot wash and drying with a hair dryer. Wool and cotton are prone to shrinking when washed and hot dried. Give your cap a wear while in the shower and dry it as if you were drying your hair with a hair dryer. That can help shrink the cap down.
> If the cap is polyester, washing won't help shrink it at all. Instead, you can take cotton balls and squish them down into a long, stick-like appearance. Take two of these and place them inside your cap's sweatband (tuck them in). If you need more shrinkage, take a few more and tuck them in the sweatband's front and back of the cap. This trick also works for cotton/wool caps in case you would rather not wash them.
-
That's it for another episode of the Friar's Hat Stash! Thanks for reading, and as always, I'll be happy to participate with you guys in the comments. Here's what's on deck for the next issue:
- We'll check out some camouflage variations of Padres caps!
Thanks again for reading! Until next time!
Cheers!
- Tim (The SD Hat Guy)
In case you missed it: TFHS #6 - TFHS #5 - TFHS #4 - TFHS #3 - TFHS #2 - TFHS #1