Last night while all of you were watching Pineda mow down the Padres, I decided to take the hour and half drive (took over 2 hrs with traffic) from Woodland Hills to Lake Elsinore to watch Gyorko, Rincon and the Storm take on the Lancaster Jethawks. Let me start off by saying that this is only my second minor league game (first one was last year, Storm vs Jethawks in Lancaster).
When we got there I was excited and ready to start the night. Right away I was thrown a curveball when I was asked to throw out my sunflower seeds before entering. I enjoy my sunflower seeds and this was a huge blow, I usually go through at least a bag a game. They didn't sell any inside either, so I was out of luck. Once we got in the stadium it was super noisy and the PA system seemed like it was too loud, I think it was also little league night so there were millions of kids running around banging these giveaway fan things. I can get over that stuff but it was very overwhelming when we got there.
Next we needed to grab some grub. The Lancaster stadium had a lot of variety with really cheap beer and food. At that game I think we got a BBQ sandwich and some chilli. At LE, they had a "grilled" chicken sandwich which was a microwaved chicken patty on bread and a frozen burrito, it was all pretty pricey and the $5 beers were small, was definitely not impressed with the food, I had a couple of crappy hot dogs. 
Once we got to our seats we figured out why we had driven an hour and half, 1st row, right behind the plate for $10 bucks a pop. The game was good and the Storm pulled out the W. Fuentes had a couple of hits, Gyorko hit the ball pretty hard but failed to record a hit, Rincon had a nice hit up the middle. Rincon also came up with the bases loaded and reached on an error on the third baseman, go figure. Nothing all too exciting, was hoping Gyorko would put up some of those monster numbers that earned him #1 on BA's hot sheet but oh well.
Some other random stuff, I was wearing my GLB shirt and the guy behind me complimented me on my shirt. He told me he doesn't come to GLB but sees all the stuff on twitter. I'm not on twitter so I don't know what info we provide but sounds like a lot. Also, to go back to the loud PA thing, at one point they kept playing music from the middle of the inning into the first batter from the Jethawks. The ump was ticked and kept giving a stink eye back the the press box. One more thing, I guess I've pronouncing Gyorko's name wrong, the announcer was pronouncing it something like Jyorko, the G was soft like a giraffe.
All in all it was a good time. Not going to lie, enjoyed the game at Lancaster more since it seemed like it was more about the baseball than the atmosphere but had a good time. I'm thinking for the next game, I'll maybe try Rancho Cucomanga (or whoever you spell it). Below are some pictures.
Entrance
Right before game time
Charlie Sheen's retired number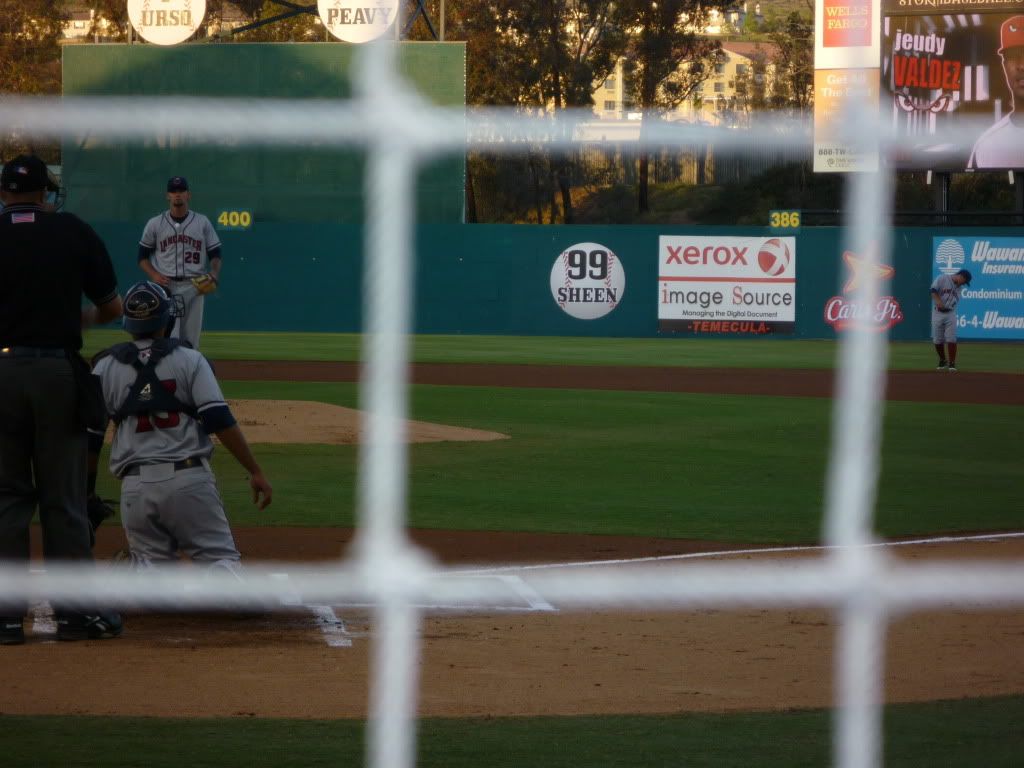 Gyorko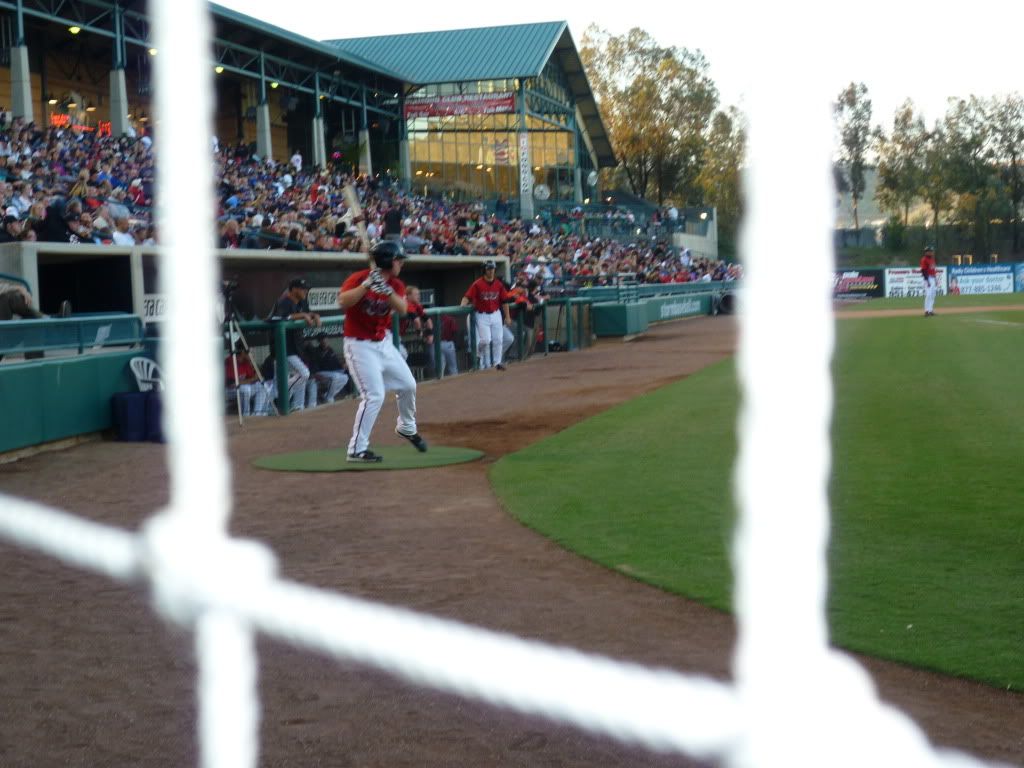 One more of Gyorko so Jordan_Ming can check out the pants tightness