I make it to Peter's in just under 2 1/2 hours. I had the air cranking the entire ride and when I open the door to get out the heat punches me in the face.  East Coast heat and humidity are the worst. I need a drink.
We make a couple of HUGE John Daly's and sit down to watch the last 20 minutes of the Germany - Spain World Cup Match. Spain wins. Another huge John Daly. We get ready to hit the road to the Metro station. I make number three, a "traveler" for the road.
Rolling with a nice little buzz, we hop on the Metro to go eat.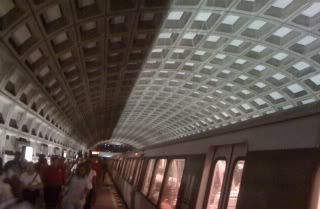 Ben's Chili Bowl time. Half-smoke with chili cheese fries and a chocolate shake.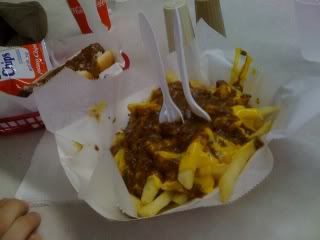 Full....and buzzed. Time to hit the ballpark.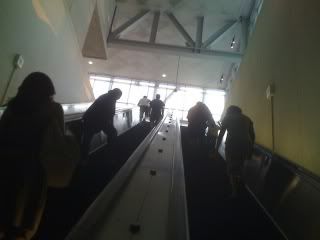 Coming up out of the Metro to Nationals Park. I check my phone to see we're already down 4-1 after one inning. Ugh. We hit the Will Call window to pick-up our tickets. Section 209. We check out some signs and realize 209 is in the Stars & Stripes Club. Air conditioning, bars and lounge areas. Nice.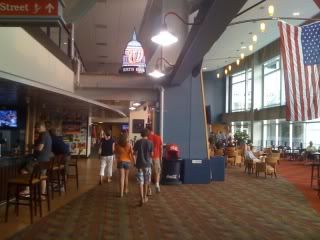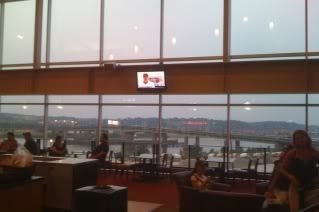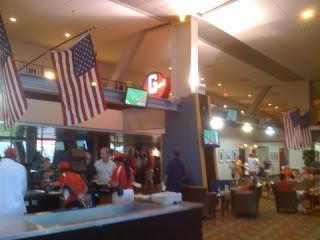 We grab a couple of Stellas at the bar and head to our seats. Pretty sweet view.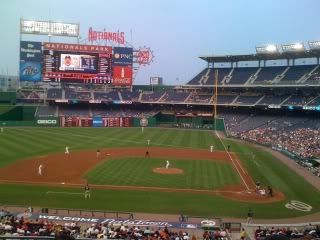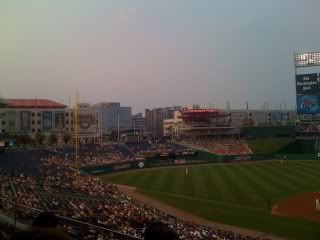 Peter gets a text from his boss....he's in a luxury suite and asks him to stop by. It's insanely hot and more air conditioning sounds perfect. We head to the suite. BORING crowd. Jesus Lopez. The guy who has the suite has crazy money. He's a huge baseball fan and he has a suite In DC, Cleveland, Boston and at Dodger Stadium.  We bail out in the middle of a riveting discussion about the Harvard Debate team. Back to the lounge for more Stella. The top of the ninth comes quickly and we're down by two runs. Stairs rips a homerun off of Capps. I am certain extra innings are coming. Peter has to get up at 3:30am for work...he's done drinking. I am not. I order another beer. We head down to the field level to watch the Padres hopefully tie it and win it. We hop on the elevator and hit Field Level. We end up down in the bowels of the Park. No security to be seen.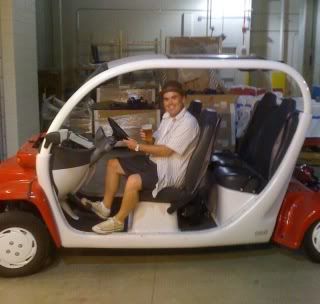 Grounds crew cart! Sweet ride. This pic below I think is the Umpire Dressing room. Not sure.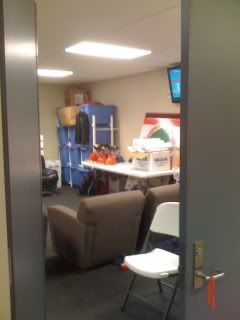 Security has spotted us and asks us where we are headed. We mumble incoherently and make our way back to the elevator. We try to head to the Press Level....but our elevator doesn't have access to it. I'm confused. We find field level. I take this pic of the Savior right before he grounds out to secure the loss. Dammit, Chase!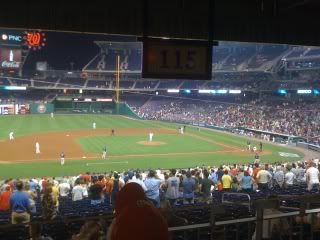 Game over. We need to explore more. We get back in the elevator and head to the Stars & Stripes level. It's really empty in the main hall way. I ask a club usher how we get to the Press Level. She instructs us to where the main elevators are. We head that way. We pass empty luxury suites waiting to be cleaned with their doors wide open. My beer is almost empty. We look both ways....no one in sight....we slip into a dark suite. The fridge is unlocked and packed with beer, soda and bottled water. The thought of stolen beer is too good for Peter to pass up. He's drinking again. We pour ourselves a beer and snag a bottled water to go. We slip back into the hallway and head for the elevators.  Level 7 please.
We get off the elevator and walk up to the security guard....each of us with full beers in hand. We have no press passes...nothing. We're a couple of liqoured-up degenerates...no way are we getting in.
"Hi. I'm here to see Mark Grant with the Padres broadcast."
"Sure. They're right down the hall."
"Thanks."
We walk down the hall and take a left. I immediately turn to Peter and we bust-up laughing. Unreal. We hang a right and I see Mark Neely walking towards me....then I see Uncle Teddy's beautiful silver mane of hair....then I see him. The Gwynn. I set my beer on the nearest shelf and hand my phone to Peter. I am a mess. I say hello to Neely and shake his hand. I think he remembers me from last season. Who knows? I say hello to Uncle Teddy. I'd love a pic with him....but my head is swimming and all my focus is on The Gwynn.  T is the last guy walking up the hall. I clumsily make my pitch...I am an idiot.
"Excuse me, Mr. Gwynn? Would you please take a picture with me? (He's still walking...I am walking alongside him. I am rambling now.) Ummm...my name is Corey and I'm from San Diego and I'm a huge Padre fan and I used to work at XTRA Sports 690 and I used to produce to the morning show and you know my old boss...." Tony is breaking into a huge grin as I finally pause to actually take a breath from talking like an insane, homeless person.
T: "That's all? Anything more you want to add to get me to take this picture?"
Peter and The Gwynn are both laughing at me. This breaks the tension and I feel better.
Me: "Uhhh....I have a few others..."
T: "No, no! Let's take it." He does The Gwynn laugh....I could not be a happier human being.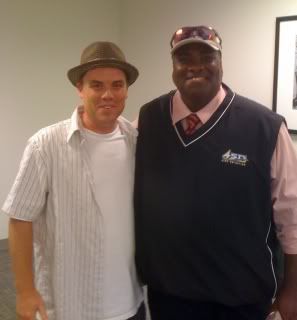 Look at the look on my face. I'm talking when Peter takes the pic...thanking T for the 13th time.
We head back down to the field to look around.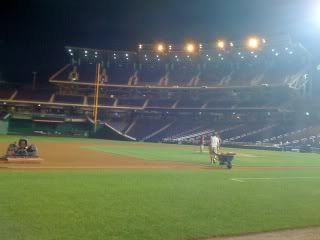 Once again, there is NO security. Peter is literally standing on the field.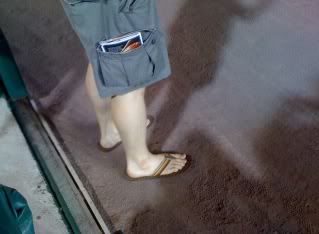 Security finally tells us to get the hell out. We head upstairs to the exit. The Nationals post game show "Nats Xtra"is just wrapping up. I get a picture with each of the hosts.
Ray Knight. I did NOT call him Ray Lopez.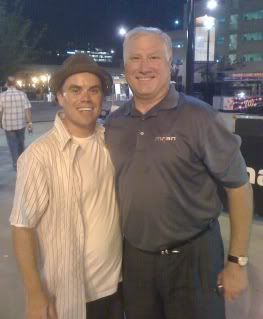 Johnny Holliday.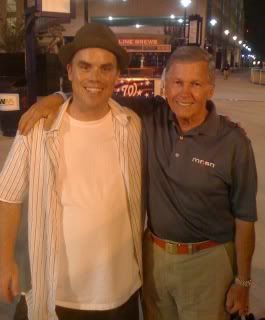 The night is complete. We have officially closed down Nationals Park. We head to the Metro...