While most of you were either at Petco or watching the Padres beat the Mariners from home last night, I decided to make the hour drive from the San Fernando Valley to Lancaster to watch my first minor league baseball game. The game had the feel of a glorified high school game with a very small, enthusiastic crowd. Me and my girlfriend were excited for the food and the chili and pulled pork sandwich didn't disappoint. The $6 24oz Heineken was nice too. We got to our seats and were happy to see that $12 a seat gets you second row right behind the plate.
I was looking forward to seeing Jaff Decker, Drew Cumberland, and Blanks along with Jay Austin on the Jethawks whom I've heard good things about. Unfortunately, Jaff didn't play. Drew Cumberland had a couple of solid hits and Blanks went 1-2 with two BBs and a K. I was pretty disappointed with Blanks. This is high A ball and the California League is known for being a hitters paradise. Blanks needs to get his crap together and start pulling. Some guy I've never heard of hit a HR and the Storm won pretty easily. The Jethawk pitcher was tall and lanky and twice bounced the ball to first on a come-backer for an out; I'm still confused, not sure of it was on purpose but I'm thinking it's a nervous thing or something. One thing that stood out was the physique of all the Storm players (minus Blanks). They were all short and big, not your usual big league body, they all looked like catchers. The Jethawks had some athletic looking players that looked like they could be leadoff guys.
All in all it was a fun time but not one I would most likely repeat in the near future, maybe if/when Tate plays for the Storm. I took a few pictures and I'll a add some from the Padres-Dodgers game from LA earlier in the year. I'm looking forward to coming back to SD next weekend, I'll be at both the Saturday and Sunday game.
View of the stadium in Lancaster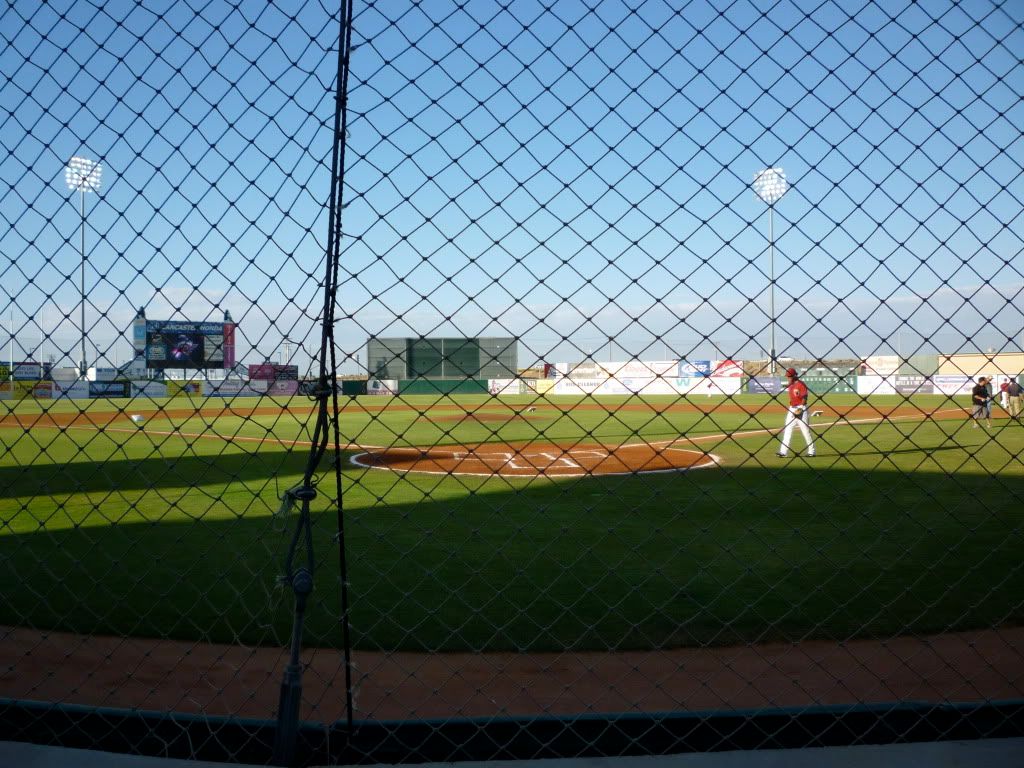 Blanks in the on deck circle
Blanks batting

Jaff Decker coaching 1st base

Pic of me and the gf
Adrian in LA

Venable after a leadoff triple