My GPS had betrayed me. Don't you just hate getting f**ked by your GPS? It's the worst. So my drive to Peter's place ended up with a more scenic route. I'll start with a few pics of monuments...look how old those buildings are. They're probably like 80 or 90 years old. (Poor quality alert: These were taken from a moving car...by me...while I was driving.)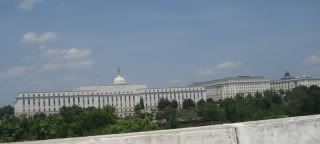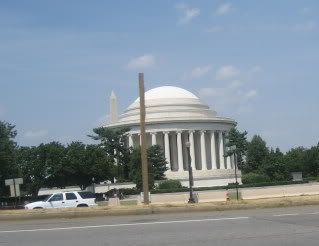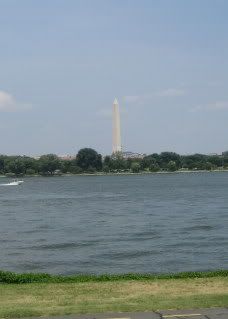 So I get to his house. We immediately have a Vesper. So damn good. Off to The District.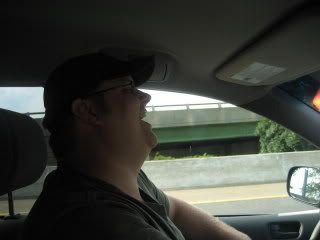 Peter driving us to the Metro Station.
Metro. Love it down there....so cool.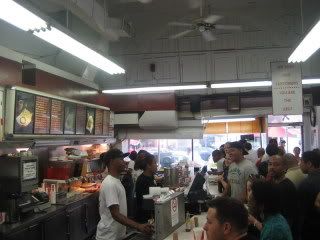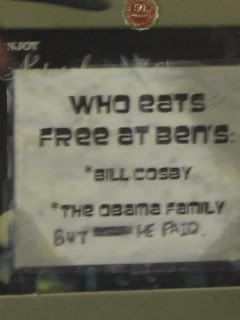 First stop was Ben Chili's Bowl. We each had a Chili Half-Smoke, shared an order of Chili-Cheese fries and had chocolate milk shakes to wash that down. No exaggeration, one of the best meals I have ever had. Period.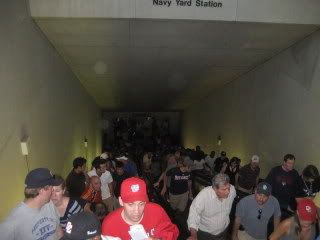 Coming up out of the metro station onto the street in front of the park. This is about the time I got the text from 'Tec saying he wasn't going to make it. No TTG and no 'Tec. I guess I won't be meeting up with any GLBers in DC...or will I????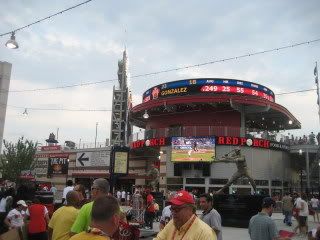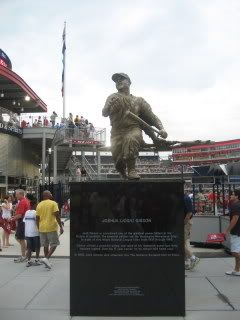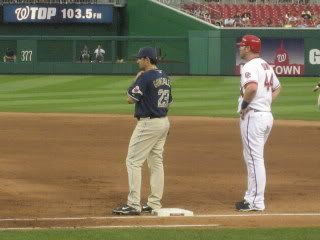 Just some boring ballpark pics. Decent shot of Aid and Dunn. Our seats were crazy good. 4th row on top the Nats Dugout. We got down to our seats a little late. It was already 2-0 Nationals. 
The presidency has not worn well on Mr. Obama. He's gotten fat and white. Sad.
We were in our seats maybe 15 minutes before everybody started ducking for cover. Just long enough to kill one beer.  NOW is when the night gets great....
David Gregory: Moderator of "Meet the Press"...former NBC White House Correspondent. This is very funny because the tickets I was using were given to me by my good friend, Major Garrett, who just happens to be the White House Correspondent for FOX News. (Major is from San Diego and is a HUGE Padres fan...crazy like us.) I really only got the picture to f**k with Major.
So...rain delay. Peter and I cruise over the elevators to get up to the Press Box/Media Areas and I start bullshitting the lady working security...she buys the story I'm selling and let's us in. We get in the elevator and go to the 7th floor...we walk out of the elevator and I literally walk straight into...
Mark Neely, bitches! Really, really nice guy. I told him I knew Mud and came up to say hello and Neely cruised down the hall to get him for me. (I had no press pass and the guys up stairs on security weren't as easy as the other lady.)
Mud! "Anybody on Earth that doesn't like Mark Grant...they've got problems." Let me tell you something about Mud...dude KNOWS his hats. 
Mud: "Love your hat. Is that a Country Gentleman?"
Me: "Uhh...(take it off and look inside)...yeah. A Country Gentleman."
Mud: "You got that at Macy's?"
Me: "Uhhh...yeah."
Mud: "Yeah, they've also got one navy..."
Dude KNOWS his lids. Good advice from Mud: He told me to put the front brim of my hat down...always take advice from an expert.
So, we talk with Mud for awhile and then they have to go for top of the hour update. We get back in the elevator and get off on the wrong level. We're looking at the door of the President's Club.
We hand our tickets over to the guy working the door of the President's Club and show our tickets hoping for entry. No go. We chat him up for awhile...really good guy...I can't use his name and couldn't get a picture with him though (you'll find out why later). He tells us he really wishes he could let us in. 
Me: "Come on. We'll be cool. No problems. What do you say?"
President's Club Doorman: "These are really expensive tickets. I would be taking a BIG risk."
Peter: "No risk...we'll be cool."
PCD: "Man...you ain't even speakin' my language."
Peter: "What language do you speak?"
They walk down the hall a bit...2 minutes (and $40) later we're getting orange wrist bands and a tour of the President's Club. UNREAL buffet...very cool bar.
Behind that glass wall is the Nationals batting cage.
Better shot of the cages. Notice no one is hitting. 
The post-game media press conference room is right behind a glass wall in the bar as well. I begged a security dude to let me sit at the table and get a pic...he wasn't having it.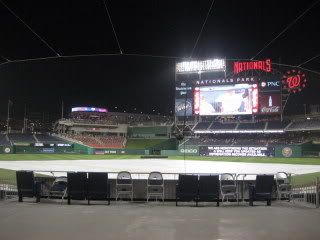 When you step out the doors of the President's Club here's the huge patio. Tarps still in place and still raining.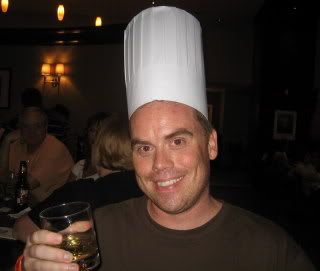 Two words: Ham Merred. President's Club Chef's Hat and a double Makers Mark with a splash of water.
They're "monitoring the situation" while we continue a friendly take over of the bar.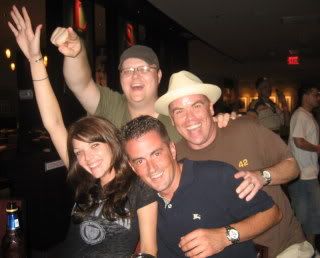 Making friends in the bar. This is Steve and Kate. Kate LOVED my hat. Damn they were funny.
Rain is over! Tarps being removed! Baseball? At this point...our good buddy PCD finds us at the bar and tells us he wants to show us our new seats. 3rd row directly behind the plate. Sweet.
Latos...pick or a scratch?
Perdomo giving up a million runs. All because he walked the f**king pitcher! The guy in front of me said "This guy has a gun." I told him "Trust me....he's got his gas can with him." As soon as he loaded the bases I told everyone in our section Dunn would hit a grand slam....a minute later "BOOM!".  
7-0 Nationals. Jesus Lopez. (The scoreboard operator had 8-0 up for like 5 minutes before anyone even noticed.)
Peter is not feeling well. Peter is not accustomed to watching awful baseball like we are....either that, or  he has been over-served.  He exits to the restroom. A vendor stops by our seats with free Dove bars. I am drunk, watching my Padres get killed and eating a free Dove bar. Life is good.
Peter calls me on my cell. He's blowing chips in the President's Club shitter. I have to get a picture of that, right?
(Yes, that is vomit on the floor in the corner.) I ask him how long he needs...he tell me 15 or 20. I go back to the game.
I was way down on the side of the Padres bullpen to get that shot of Gwynn. Finally I saw Giles in the dugout. He looked at me...paused...then broke into a big grin. We just pointed at each other, smiling and nodding. We hadn't seen each other since the 10 year high school reunion. I give him a lot of shit Padre-wise...but Brian is my boy. I wouldn't want to date him though...especially with the way I drink. 
Peter calls. He's done. I go up to find him.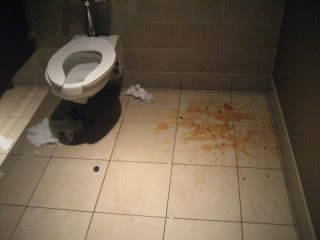 He's not here...anymore.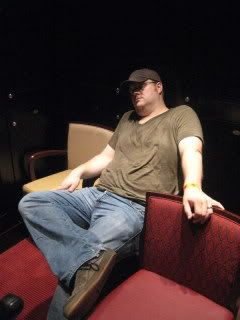 Passed out in the President's Club Members Locker Room. Nice!
We head out of the Park to get to the Metro.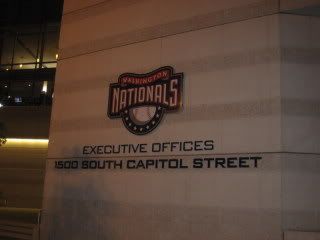 That's where the magic happens!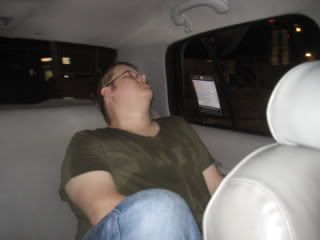 After getting off the Metro we figured it would be smart NOT to drive the rest of the way home so we grabbed a cab. I rode in the front specifically to get this picture. Peter's shirt is SOAKED from splashing cold water on his face to try and rally for the journey home.
I've been to tons of Padre games...but this one is Top 3 without a doubt. Great, great time. I spotted lots of Padre fans and talked with them...one woman's son is a chef at Petco Park. Pretty cool. They all loved my retired numbers t-shirt. The Nationals fans we hung out with at the bar were all really nice folks. They're a lot like us - they know they suck but they love their team and they love baseball.