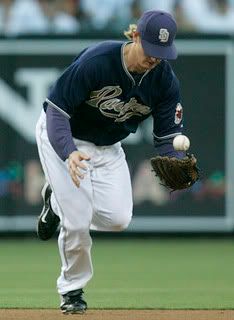 Yet, another loss. "They have a great team," Padres pitcher Cha Seung Baek said after a 4-2 loss to his former teammates Saturday night.  Carlos Silva wins for the first time in 13 starts.
The Dodgers got no-hit yesterday...and WON.
Chris Jenkins is out of his f**king mind.
Good news: CY threw a smiluted game yesterday. Bad news: We lost. Take a look at the three batters he was throwing to...obviously they're trying to get him prepared for a Single A start.
Padres Minor League Report.
Cesar Carrillo is back.  
Bedard vs. Peavy. Three months ago this would have been an awesome match-up. Baseball is cruel. First pitch is at 1:05pm. Check out the cool little Friar banks they're giving away to kids today.