THIS RACE AIN'T OVER YET HATED RIVALS!!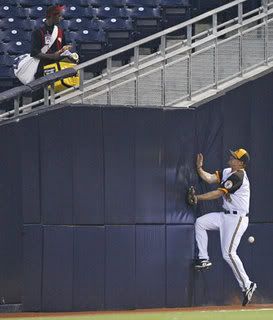 "Umm, excuse me? Mr. Savior? This is the 4th inning and when I usually meet Mr. McAnulty to give him his order. Maybe you could do me a solid and bring this back to the dugout with you? Oh...and that'll be $37.50."
The Mariners roll in town talking all kinds of sh*t about how bad they suck...and how when they leave they're just gonna take Stephen Strasburg with them back to Seattle. Well...guess what, Mariners...we ain't giving up without a fight!  
Clay Hensley has a 3.25 ERA in 14 appearances for the Beavers...yet we brought back Brett Tomko.  Is it too late to change my vote?
Our first six game losing streak of '08....we've now lost 10 of our last 11 games.
The NL West is horrible. The D-Backs fell to .500 last night.
Carlos Silva vs. Cha Seung Baek tonight. First pitch is at 7:05pm. Go to the ballpark tonight to get your Adrian replica jersey.
Lastly, thanks to Winfield's Ghost for showing up to work a whole TWO times this week. Thanks for your dedication.