PADRES LOSE IN EXTRA INNINGS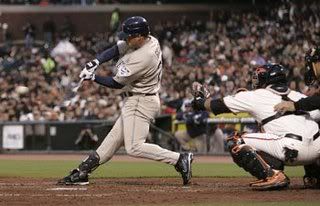 Giles hit a triple? Giles? Brian Giles? Cool.
Even though we hit into a triple play...Khalil walks in the game-winning run in what eventually turns into a 7-3 Padre victory in 13 innings.
Padres relievers retired the last 18 hitters they faced.
Our best hitting coach is Edgar Gonzalez.
The Beavers got hammered 10 - 3 last night...but The Savior was 3 for 5 with a double and 2 RBI.
Kouz is improving defensively.
The D-Backs have lost five straight...amazingly enough, the Padres are now just 8 1/2 games out.  
Josh Banks gets his first major league start in a Padre uniform today. He'll face Pat Misch. First pitch is at 1:05pm from AT&T Park in San Francisco.