"We're in a little bit of a funk right now," Black said.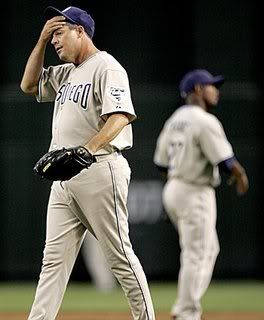 (APMatt York)
Gregory Alan Maddux is the definition of professionalism.
The Padres are now below the .500 mark for the first time since Aug. 19, 2006.
The Friar looks back on the marathon.
Skip Bayless is the dumbest man on ESPN.  (Pause for just a second and reflect on the gravity of that statement.)
P-Keg is almost as stupid as Skip Bayless.
The "Who's Hot" and "Who's Not" portion of this is sad to look at.
CY vs. Edgar Gonzalez today. First pitch is at 5:10pm.