So the day began with extremely hot weather. Stephanie, Shayna (Padresgirlforlife44), and I finally met and clicked right
away. Our seats were incredible, we sat in the Picnic terrace which is RIGHT behind the bullpen. We got there by going through the tunnel.
As we were sitting there Justin Hampson walked by and we waved at him. He then approached us and began talking to us. For the FIRST time we were not shy. We introduced Shayna and Justin said "Hi Shayna, I'm Justin". Shayna replied by saying a very giggly "I know". We laughed, we cried, we exchanged juicy gossip about partying.
As we were talking to Justin, the usher dude told us that we shouldn't be talking to the players during the game and that Justin should know better. Buddy doesn't like when players talk to fans and Justin does it a lot. During our conversation with Justin, this blonde girl kept staring at us. After we got in trouble, she kept giving us dirty looks. We don't know if it was his girlfriend or someone he partied with but she was very jealous for some reason.
Because of the heat we then sat on the toyota terrace level but not for long because that bullpen finally came out and so we went back to the picnic terrace. Stephy and Shayna waved at Justin. Cla was there and looking really cute. Stephy and Cla just kept exchanging stares even though Stephy was trying to play if off all cool. But she didn't do that very well.
Then we waited after the game to say goodbye to the players. Some players came up to fans to give autographs like Jake Peavy, Koozy, Sledge, and Chris Young. Justin came out with Cla and Justin saw us. He smiled and waved. Then out of nowhere Shayna and Stephanie shrieked and when I turned around Justin was there. He told us that we should come to more games together because we're good luck for him. He didn't sign any autographs and only talked to us. He loves us because we're his good luck charms. After that all 3 of us were shaking.
When Sledge came Stephanie told him that she really liked his tie, he replied by saying thank you with a big ole smile. Shayna was SUPER happy and almost fainted when Jake came up and finally autographed her picture from last year's celebrity pour.
We all had fun under the sun. I have no idea what happened in the game...thanks to Justin. The End.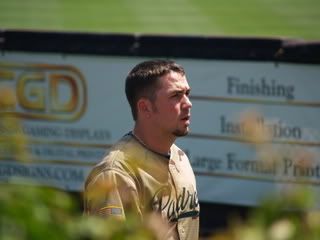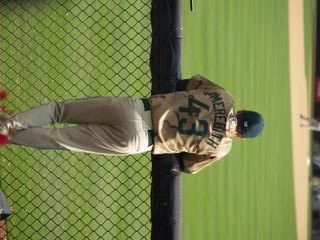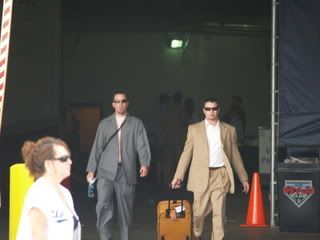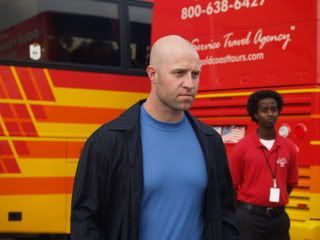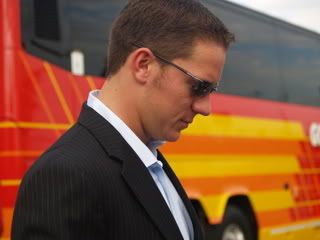 Update [2007-9-4 11:57:18 by jbox]: padresgirlforlife44 took some pics too...